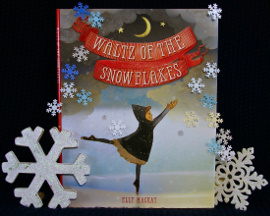 Get into the winter spirit with Elly MacKay's new picture book, Waltz of the Snowflakes, at the Owen Sound & North Grey Union Public Library on Saturday, November 25 from 1 - 2:30 p.m., where you will have the chance to meet the author and illustrator.
MacKay will be doing a reading, complete with projected images of her illustrations, props, and real, live ballerinas. Waltz of the Snowflakes tells the story of two young children and their first experience going to see The Nutcracker ballet. Waltz of the Snowflakes has received starred reviews from multiple sources, and is a wonderful new holiday book. Following her reading, MacKay will be signing copies of her book which will also be available for sale.
Families can stay to meet new Owen Sound Poet Laureate Lauren Best, who will be running an activity where children are encouraged to respond to Waltz of the Snowflakes. Words that they provide will go together to create a poetic mural. The Library will be providing snowflake- and ballet-themed crafts, as well as refreshments following the reading.
This is a free, drop-in program for children and their caregivers. For more information, contact the Library's Youth Services Department at 519-376-6623 ext. 4, or visit the website: www.owensound.library.on.ca.