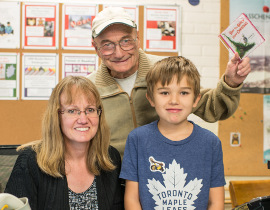 This year's Kids in the Meaford Hall (KIMH) production follows a nine-year tradition of young local actors on stage at Meaford Hall in December, a tradition that, during each of the previous productions, Jack Betz has videotaped, edited, and gifted to the cast.
Jack's videos of the KIMH past productions are now available to Meaford library patrons. On Friday, November 24, Jack presented copies of the eight productions to the library's Children and Youth Coordinator Lori Pierce, including 'Twas the Night Before Christmas (2010); Alice in Wonderland (2011); A Christmas Carol (2012); Robin Hood and the Golden Arrow (2013); The Lion, The Witch and The Wardrobe (2014); Aladdin and The Wonderful Lamp (2015); The Grinch Who Stole Christmas (2016).
Kids in the Meaford Hall will present The Wonderful Wizard of Oz, under the direction of Michelle Biggins, to school-aged children during three performances on December 7 and 8 and to the public on Friday evening, December 8 at Meaford Hall. As always is the case, the pressure is on to memorize lines and add the finishing touches to costumes, props, and the stage set, according to KIMH President David Baker, producer for this year's production.
"It's coming together," he said. "The Wonderful Wizard of Oz is an extra-challenging production. There is a cast of 20; a lot of scene and costume changes; some exciting but challenging special effects like a Kansas tornado, the Wizard, and Emerald City; prerecorded soundtracks; music and dance routines; and eight little munchkins on stage. We have seasoned actors working alongside newbies. We have twin sisters playing opposite each other, one as the Wicked Witch of the West and the other, Glinda, the good witch."
More than 1,000 school children from Meaford and Thornbury schools will be treated to performances of Wizard of Oz free of charge on December 7 and 8, according to KIMH Publicity Chair John Hethrington. "There is a final performance Friday evening, December 8 at 7 p.m., for adults and anyone else who wants to see an outstanding student theatrical presentation," he said. "Friday night tickets are just $15 and available at the Meaford Hall box office. These funds, along with the generous donations from local supporters, pays the $10-12,000 that this year's presentation will cost."
And, guaranteed, Jack Betz will be in the hall to film this year's production for cast and crew and library patrons to enjoy for years to come.
Photo: Nine-year old Carter Kirkpatrick looks over the DVD copies of the Kids in the Meaford Hall past eight productions with Lori Pierce, Meaford Library Children and Youth Coordinator, and videographer Jack Betz, who produced the DVDs and will be taping this year's KIMH production of Wonderful Wizard of Oz, being performed at Meaford Hall for school-aged children on December 7 and 8 and for the general public during an evening performance on December 8 at 7 p.m. Tickets are $15 and available at the Meaford Hall box office.
*This article was corrected on November 30, 2017, to reflect the correct show time of 7 pm.