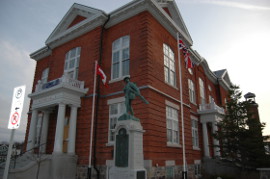 An exciting lineup of professional theatre will return to Meaford Hall this summer with two plays and a musical production on stage, thanks to the financial sponsorship of the Meaford Hall & Culture Foundation.
The first production is The Foster Festival production of Wrong for Each Other, by Norm Foster. This play opens on July 17. It's the story of a couple, Nora and Marty, who meet by chance in a big-city restaurant four years after their divorce. Overcoming the awkwardness of the situation, they decide to have lunch together.
Despite very different backgrounds, or maybe because of it, they once were deeply in love and maybe still are. Wrong For Each Other takes us on an emotional ride that examines the evolution of a marriage with humour and heart and vulnerability. Like a fine wine, Wrong For Each Other is vintage Foster at his absolute best.
The second week features Memories of the Summer of Love, playing August 8-11. Catch this blockbuster musical trip back to the '60s with a dynamite four-piece band and four sensational singers. It's a 40-song celebration of such groups as the Beach Boys, Gerry & the Pacemakers, the Monkees, Sonny & Cher, Peter, Paul & Mary, Bob Dylan, Gordon Lightfoot, Joni Mitchell, Mamas & Papas, Simon & Garfunkel, and Roy Orbison, to name a few. Relive the stories and music that spoke to a generation defined by the folk movement, civil rights, peace, love, and good vibrations. You'll hear classic hits such as Ferry Cross the Mersey, Don't Let the Sun Catch You Crying, There's a Kind of Hush, Daydream Believer, I Got You Babe, Blowin' In the Wind, If You Could Read My Mind Love, Me and Bobby McGee, Mr. Tambourine Man, California Dreamin', Bridge Over Troubled Water, I'm Henry the Eighth, I Am, Do You Believe in Magic, and that's just a start. Don't miss this musical journey you won't soon forget! Created by Chris McHarge & Colin Stewart.
The third week is the Orillia Opera House (OOH) production of Murder at the Howard Johnson's, from September 12-15. A housewife with a wandering eye mixes it up with a philandering dentist. Booked into a Howard Johnson Motor Inn, they have more than a love tryst on their minds. When the hapless husband turns up, they may end up with a crime on their hands. This triangle of love will take you through a hilarious and nail-biting series of homicidal mishaps where anyone could end up dead – perhaps just from laughing. Be sure to see how this motel-à-trois finally gets sorted out.
For further information about all upcoming performances, visit www.meafordhall.ca, call 1.877.538.0463, or stop by the box office at 12 Nelson St E.