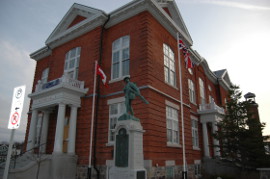 Billeting homes are needed for the actors performing on stage at Meaford Hall this summer. More than 20 actors will be coming over three weeks of the summer who will need accommodation for up to a week at a time. This is a chance for local residents to get involved in supporting this new programming initiative.
Meaford Hall is looking for homes primarily within walking distance of Meaford Hall. More information can be obtained by contacting the Box Office at 519-538-0463.
Professional theatre will return to Meaford Hall this summer with two plays and a musical production on stage due thanks to the financial sponsorship of the Meaford Hall & Culture Foundation. The first production is The Foster Festival production of Wrong for Each Other, by Norm Foster. This play opens on July 17. The second week features Memories of the Summer of Love, playing August 8-11. The third week is the Orillia Opera House (OOH) production of Murder at the Howard Johnson's from September 12-15.
For further information about all upcoming performances, you can visit their website at www.meafordhall.ca, by phone 1.877.538.0463, or stop by the box office at 12 Nelson St E.