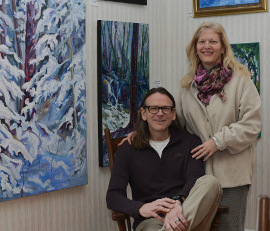 Displaying one's artwork for all to see and judge is risky business, according to Meaford painter Dean Raeburn-Bell, but it is a challenge that he welcomes as part of his development as an artist.
Dean has taken the challenge set out for him, partly as the broader experience of expressing himself as an artist, and partly on the advice of his instructor Michelle Fleming.
"As my collection of paintings was growing, Michelle encouraged me to get my paintings up on the wall, to get them out there, and to share them," he said.
In November, Dean and his wife Peggy opened Fuller House Art Studio in the great room of their heritage residence on Bridge Street. The opening of the studio gallery was a cautious first step. Invitations were sent to friends, neighbours, and acquaintances, and Dean's work was posted to Facebook. At the same time, Dean and Peggy recognized what Dean describes as "the moment when I realized I had to have a showing of my work."
Making Strokes is Dean's first solo exhibition in Meaford, scheduled for February 1 to March 26, in the gallery of Meaford Hall.
"The exhibit traces the development of Dean's style and the intrinsic joy rooted in making strokes," Peggy states in an artist statement she has prepared on Dean's behalf. "The paintings often incorporate thickly applied paint, vibrant colour, and bold brushwork."
The artwork exhibited showcases Dean's development from his early work when he was focused on 'making it right' to his personal growth as an artist as he experimented and learned techniques to articulate what he sees. "Art is about learning to see, and about developing the ability to articulate and share one's perception of what he or she sees and what the artist finds most joy in," he says. "I am fascinated with rich, saturated colors and textures. I work mostly in oils, with both brush and palette knives. Making Strokes encompasses what I have done so far, and reflects an emerging style. Lately it is more consistently a loose style… a more impressionistic look."
Making Strokes opens February 1. For more information, go to meafordhall.ca or visit Fuller House Art Studio on Facebook or at 116 Bridge Street in Meaford. The art studio is open most days from 10 - 6 p.m.
Photo: Artist Dean Raeburn-Bell and his wife Peggy in their Fuller House Art Studio at 116 Bridge Street. An exhibit of Dean's artwork opens at Meaford Hall on February 1.