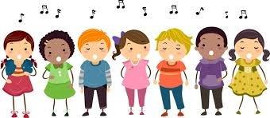 The Meaford Children's Choir will perform at the Meaford Public Library on Tuesday February 6 at 5:30 pm. The event will be held in the Library Reading Room and is offered for all ages at no charge. This special demonstration will feature songs written for children and well-known interactive family favourites, as well as including opportunities for audience participation.
"We are looking forward to having the Meaford Children's Choir perform at the Library," says Lori Pierce, Children and Youth Co-ordinator at the library. "Bringing music into the library is lots of fun and promotes literacy through singing and appreciating songs."
There will be opportunities for creativity, such as participating in interactive songs that encourage the audience to invent rhymes and create musical stories together.
"This performance allows families to enjoy music performed by local children in a relaxed atmosphere," says choir director Lauren Best. "We hope that families will join in during familiar songs and participate. We want to inspire more singing in the community."
The choir also hopes young people who see their peers performing at the Library will want to join the choir and tell their friends about the fun.
"We'd love if more people found out about the opportunities provided by this choir," says Best. "We hope that as the community hears us sing and discovers what we offer, it will result in more young people joining."
The choir seeks to attract children aged 7-13 to join the choir, with registration ongoing throughout the winter.
The choir practices during weekly rehearsals in a welcoming environment that encourages for children to learn musical skills and make friends while receiving professional singing instruction. No experience is necessary to join and there is no cost to participate. Rehearsals take place on Tuesdays at 5:15pm at Christ Church Anglican.