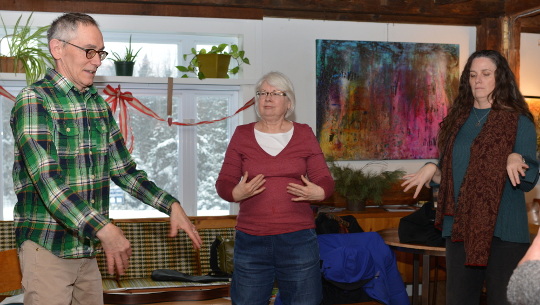 Owen Sound musician and songwriter David Sereda is bringing people together to voice their feelings on common issues through song, in what he describes as song circles with a subtitle: Singing in the Storm.
In the third of a series of song circles at The Barn Co-op in Meaford on Sunday, February 11, Sereda combined popular songs that carry a particular social, political, or environmental message along with songs he has written.
"Singers are not silent and when they come together it can be something beautiful," he said. "The spirit of the song circle is to choose songs that have a purpose, something to say, and that help us navigate through turbulent times."
Song Circles are but one of several forms of expression that the Alberta-born theatre artist, singer/songwriter, composer, producer, and activist uses to help people express themselves. He is the artistic associate and co-producer with Sheatre, a community theatre whose focus is on addressing challenging issues ranging from racism to workplace discrimination through various forms of expression - theatre, song, visual arts, dance, and more.
Serena co-produced TOM, a musical based on the life of painter Tom Thomson, with Sheatre artistic director Joan Chandler.
As uplifting as many popular songs might be, the songs that Sereda introduces during song circles are more poignant, "Songs that afford us a personal response to issues that affect us," he said. Some of the songs are a cappella, some set to music, some of his own composing.
The Barn Co-op song circles are two-hour workshops on Sunday afternoons, beginning with vocal warm-ups to relax neck and upper back muscles and improve breathing and a few voice exercises. A fourth workshop is planned for early spring. Go to The Barn Co-op website's event calendar at thebarncoop.ca for details.
Photo: David Sereda leads workshop participants in a warm-up during a song circle at The Barn Co-op on Sunday, February 11. Song circles are designed to bring people together to voice their feelings on common issues through song.