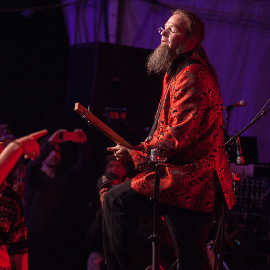 Calling all locals – this is a show you don't want to miss.
The Trevor MacKenzie Band is a new project picking up where the Maple Blues award-winning MacKenzie Blues Band left off. Trevor MacKenzie and drummer Mike Weir have set out to continue their explosive blues/rock tradition as they explore the deep roots of their long-time musical partnership.
While poised to take the blues world by storm, Trevor MacKenzie has been described as "one of the most dangerous guitar players in Canada", and he engages audiences with his soulful and playful musicianship.
Tickets for this Saturday, April 28 show at 7:30 p.m. are available at the Meaford Hall Box Office: in person at 12 Nelson Street East, Meaford, over the phone at 1-877-538-0463 or online at meafordhall.ca.
Group tickets rates are available for groups with 12 or more people, call the Box Office for more details.