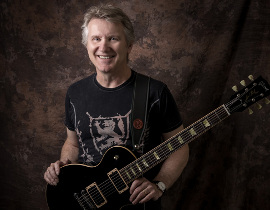 After five decades in the business, the adjectives 'prolific' and 'eclectic' frequently pop up in Rik Emmett's profiles.
Following over a dozen platinum albums from his Triumph years, he's produced 19 more as a non-platinum indie, ranging from rock to blues to jazz to folk to classical – which led to the making of a new full-blown rock record again in 2016, RES 9.
International notoriety earned him entry into three Canadian Halls of Fame, and a star on the Walk of Fame in his old hometown. He's also picked up a few 'Best Guitarist' awards from different organizations, in various style categories, along the way.
Rik Emmett is at Meaford Hall on Friday, May 4 at 8 p.m.
Tickets available at the Box Office or online for $40 or $35. Call 1-877-538-0463 or online www.meafordhall.ca
Doors open at 7 p.m. Cash Bar.