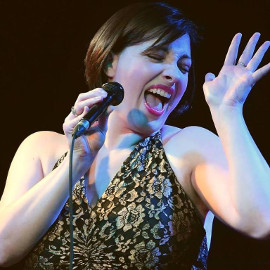 On Sunday, June 24, Christ Church Anglican in Meaford continues its series of monthly Sunday concerts with jazz vocalist Mary-Catherine Pazzano.
A rising star known for her interpretations of jazz standards, Mary-Catherine will be performing with Don Buchanan on piano, Clark Johnston on bass, Jason Hunter on sax and Steve James on drums. Three of these performers joined her on her debut album, You're Gonna Hear From Me, released last year and winning international accolades.
Don Buchanan is a well-respected local jazz musician who has been the organist at St. Mary's Church in Owen Sound for twenty-five years.
"He's the most underrated musician in my opinion," says Tony Bauer, who is a central figure in the Thornbury jazz scene. "He's a composer, arranger. He plays clarinet, he plays tenor, piano; he's a wonderful musician."
He has done extensive work as a saxophonist and clarinetist and has composed and arranged many big band and jazz combo works, as well as compositions and arrangements as music director for Owen Sound Little Theatre. Drawn to the talent of Kitchener-based Pazzano, he has focused more recently on collaborating with her to help develop a promising career. Together they composed one song on her debut album, A Simple Conversation, the first single released. It is a tune placed solidly in the tradition of the Great American Songbook and was lauded by critics as having "the potential to become a contemporary jazz standard". The remainder of her album features the compositions of venerable composers such as Jerome Kern, Oscar Hammerstein, Harry Warren, Cole Porter, Henry Mancini, and Johnny Mercer, as well as contemporary artists Joni Mitchell and Billy Joel. The album has received radio airplay on JazzFM, CBC, community and commercial radio stations across Ontario, Québec, British Columbia, Saskatchewan, and nationally syndicated U.S. shows in Florida, California, and Minnesota. Songs from the album have also been added to CBC's worldwide Jazz Songbook Stream on cbcmusic.ca.
Lesley Mitchell-Clarke of The WholeNote Magazine said in her December 2017 review of the album, "Pazzano shines throughout with energy and luscious tone, as she soars with her quartet. Pazzano possesses a gorgeous, classically trained contralto voice capable of projecting the full gamut of emotions, as well as an uncanny skill with rendering the lyrics of current music, jazz standards and show tunes." Her repertoire also includes standards by Duke Ellington, Harburg/Arlen, Rodgers/Hart, and Antônio Carlos Jobim.
Mary-Catherine has made a name for herself in our area, as a regular performer at Collingwood's Jazz at the Library series, Southampton United Church's Jazz Series, and as headliner with the Canadian Big Band Celebration in Port Elgin. When she performed songs made famous by Ella Fitzgerald in a special concert in 2017, the Thornbury Paper's founder and writer Jon Svec noted that she "enthralled throughout the entire show" before bringing the audience to its feet for two final ovations.
This concert is the third presented by Christ Church Anglican, dedicated to bringing high quality classical and jazz performances to downtown Meaford. The first show was a sellout which brought saxophonist Patricia Wheeler back to where her musical education started at Meaford Elementary School. Last month's performance featured the stellar playing of the Ezra Duo with an evocative program of music for piano and viola. Those performances set a high standard which this next concert will continue.
The concert takes place Sunday, June 24, from 3 to 5 p.m. at Christ Church Anglican, 34 Boucher St., in Meaford. Tickets are $20, $10 for students, and are available at the church, or Stuff to Read.