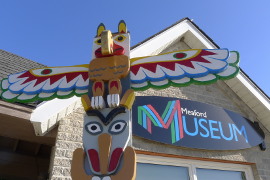 It's a great time to celebrate being Canadian by checking out the new exhibits at the Meaford Museum.
See the display of a Canadian Flag that was once raised on the Peace Tower of the parliament buildings in Ottawa. These flags are given to Canadians around the country, with a current waiting list of 16,000 members for this proud symbol of the nation.
The museum also has new exhibits on medicine, the military, toys, and more, along with our one-of-a-kind stained glass window of John A. Macdonald, Canada's first Prime Minister.
The gift shop is also overflowing with new merchandise, including lots of Canadian items perfect for Canada Day. Find unique local gifts and keepsakes made right here in the Municipality of Meaford.
The Meaford Museum will be open on Canada Day from 10 a.m.-4 p.m., and will be open seven days a week through July and August. Admission is by donation. For more information, visit www.meafordmuseum.ca, or contact 519-538-5974.