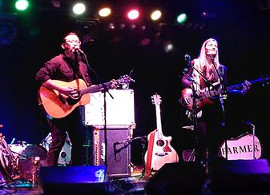 To quote Stuart MacLean and The Vinyl Cafe: "We may not be big, but we're small."
Farmer the Band is an indie roots two-person-one-man-band from southern BC. Touring as a duo, these multi-tasking multi instrumentalists fill the stage with harmonies, guitars, bass, drums, and anything else in arm's (or foot's) reach.
Their Canadian-grown Americana has been taking them across Canada, performing in living rooms to festivals and everything in between.
They have been nominated in 2016 for both music and emerging artist categories in The Okanagan Arts Awards. In 2017, their album Where The Rails Bend started charting on national campus and community radio stations. In 2018, they made it to the finalists for the Canadian Songwriting Competition for their song Worst Hotel.
Farmer The Band will be performing on June 23 at The Barn Co-op.