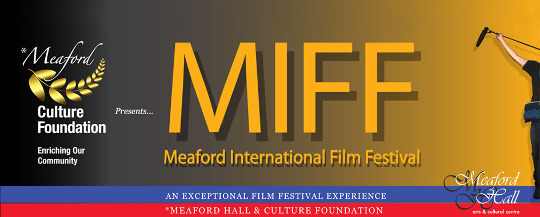 The Meaford International Film Festival has announced its 12th season lineup.
MIFF opens Thursday August 30th, and runs to Sunday September 2nd. MIFF is presented by the Meaford Culture Foundation.
MIFF Artistic Director Joanne McKenzie has selected four award winning films to be screened at the 12th annual Meaford International Film Festival. Selections from Poland/UK, Canada, Germany/France and Chile will be featured in the four night festival at Meaford Hall on Labour Day weekend.
Thursday night opens with the groundbreaking fully painted feature film entitled "Loving Vincent", which was created using oil paintings including many originals from van Gogh. The guest will be Val Fulford, the only Canadian artist who painted for the film.
Friday night's film is "Rumble: The Indians Who Rocked the World". This documentary is about the role of Native Americans in popular music history and that the roots of rock'n roll are much older than you might think.
Saturday evening is "In the Fade". This film is about a woman whose life collapses after the death of her husband and son in a bomb attack and after a time of mourning and injustice, she seeks revenge.
The closing night film on Sunday is "A Fantastic Woman" about a transgender who is bowled over by the death of her older boyfriend. This film underscores our human desire to be accepted without prejudice.
The MIFF Classic Thursday matinee is Pirate Radio about a group of rogue DJs in Britain in 1966 who defied the government to bring rock'n roll to the airwaves. This film will transport you back, give you reason to laugh and provide a soundtrack of great music. More guests will be announced soon at meafordfilmfest.ca.
Each evening before the feature there will be a student film from The Grey Bruce Youth Film Festival. Thursday is Top Ten by: Jenna Bloodworth, Nick Murray & Bruno; Friday is Stolen Children by Megan Acres (who's from Meaford); Saturday is Animkee by James Schlonies; and Sunday is Thunder Finder by Kaitrina Harrisson.
The four dinners this year will be catered by some of Meaford and area's best executive chefs including Thursday night by The Kitchen; Friday by Culinary Designs Kitchen & Catering; Saturday by Amici Restaurant and Sunday by Auberge Gilles.
For more information please visit www.meafordfilmfest.ca or to purchase tickets call or go to the Meaford Hall Box Office at 877-538-0463 or online www.meafordhall.ca