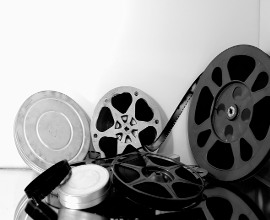 The Meaford International Film Festival marks the end of another summer, bringing film lovers a chance to view and learn about a carefully selected slate of international movies. This year's festival begins on Thursday, August 30 and runs through Sunday, September 2.
The opening evening film is Loving Vincent, an homage to painter Vincent van Gogh created through animation of over 1,300 oil paintings based on van Gogh's work, executed by 123 painters from all over the world. The genius of the work is that it uses the painter's original work to explore his life and his controversial death. It is particularly fitting that this unique technique is applied to van Gogh because his paintings work on the imagination in such a way that they appear to be in motion as you gaze upon them. That in itself would make this film compelling but the narrative adds a dimension by creating a fictional construct that explores the story of this iconic tortured artist.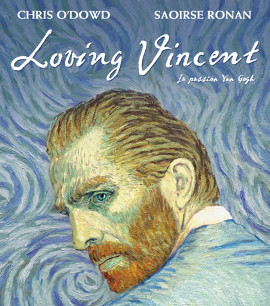 Reviewer (for Rotten Tomatoes), K. J. Proulx writes, "Loving Vincent takes you on a ride that's full of insight and powerful moments between characters. I didn't think I would've been so moved by this movie, but the performances/voiceover work was truly astounding, sucking me right into this beautiful portrait of a film. It's one thing to commend this film for having truly breathtaking visuals, but that's also the understatement of the year. This movie blows away any animated film from last year in terms of being uniquely made. From the nods to van Gogh's classic works, to the motion and dissolves between scenes, everything about this film felt seamless."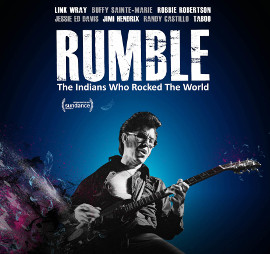 Friday night's feature is RUMBLE: The Indians Who Rocked the World, a feature documentary about the role of Native Americans in popular music history. It takes its title from an album by Link Wray, a legendary '50s rock guitarist with a unique sound who found a second career in the 1980s in a collaboration with neo-rockabilly star Robert Gordon. Along with Canada's irrepressible music maker Buffy Ste-Marie, the film looks at Robbie Robertson (of The Band, raised on the Six Nations reserve near Brantford) and other music heroes with indigenous roots that include rock icon Jimi Hendrix. While it's a timely exercise to look at music created by indigenous people, the movie gives fans of pop music history brief visits from a wide array of musical heroes including Buddy Guy, Tony Bennett, Quincy Jones, George Clinton, Jackson Browne, and Iggy Pop. MIFF usually includes a film about music, always popular in each year's series, and there is no better place to enjoy it than in the excellent acoustics of the Opera House.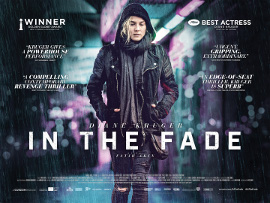 After two documentaries about the arts, Saturday night's feature is In The Fade, an unsettling drama starring Golden Globe winner Diane Kruger in a performance that has garnered rave reviews internationally. It comes with an R rating for some disturbing images, drug use, and language including sexual references.
The film has a topical aspect with a plot that hinges on a bombing which kills the husband and son of the protagonist played by Kruger. It also reflects on racism and right-wing extremists, which are too much a part of our newscape these days. But its greatest strength, according to critics, is the compelling performance by Diane Kruger, who performs for the first time on film in her native German, having made her reputation in English and French language films. The Washington Post says that she "convincingly conveys Katja's anguish, fragility and fierce determination as a woman who has lost everything and becomes single-minded in a pursuit of justice that eventually turns to vengeance." It's that pursuit which keeps you on the edge of your seat as it shifts "into a devastating climax in the thrillerlike third act."
The final film, showing on Sunday evening, is A Fantastic Woman, characterized as "a bold and moving love story" by The Guardian. More than that, it's a film designed to make you think. The New Yorker says that, "In ethical terms, A Fantastic Woman is impeccable, corralling us in outrage at an intolerant society."
Reeling from the sudden death of her lover, the woman of the title is forced to deal with humiliation and harassment, beginning with a visit from an officer of the Sexual Offenses Unit. Her crime is that she is transgender. The film is set in Chile, where it was produced, and as much as we might like to think it couldn't happen here, it forces you to question your own ideas about how deeply you are committed to Canada's official acceptance of the LGBTQ community.
A Fantastic Woman is not included in the slate of matinee showings, replaced by Pirate Radio, a film that dramatizes the British phenomenon of the 1960s in which private radio stations broadcast from international waters to provide younger listeners with a steady diet of rock and roll that was denied them within the strict programming of state-run radio.
As always the evening film showings will include interviews to amplify the context of each, and the always delightful and inspiring work of young local filmmakers from the Grey Bruce Youth Film Festival, including a showing on Friday of a film by Meaford's Megan Acres, called Stolen Children.
The films selected for inclusion in the Meaford International Film Festival are always engaging and thought-provoking. One of the great aspects of the festival is the opportunity for ticket holders to gather after the film, enjoy a glass of wine and popcorn at no additional cost, and trade reactions to the film with fellow audience members. This community aspect is something that can't be matched by watching the film at home on your big screen TV or even by seeing it in a regular cinema.
The evening's process is designed to provide a heightened experience. Before the screening you can enjoy a dinner catered by one of our local establishments and talk with your friends about your expectations. After moving into the Opera House, you are first inspired by the talents of young imaginative film creators, then you immerse yourself in the experience designed by the filmmaker. When the final credits roll, you have a chance to watch a live interview related to the film's content or production, and finally you get to see what your friends and neighbours thought of it. And, the final night has the presentation of the People's Choice award, the 'Pomme D'Or', based on the ballots of you and your fellow audience members.