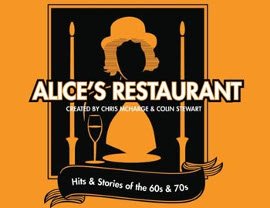 Back for another summer, Theatre Meaford kicks off July 17, with Alice's Restaurant that will take the Meaford Hall stage till July 20.
From the creators of Memories of Summer of Love, Rock & Roll, Blue Suede Shoes and Vegas Knights, comes the fantastic live concert Alice's Restaurant. With three singers and a five-piece band, they will take you back to when great songs told great stories. Hits from such music-storytellers as Arlo Guthrie, Peter Paul and Mary, the Eagles, Gordon Lightfoot, Harry Chapin and Country Great Johnny Cash.
Enjoy tunes like Alice's Restaurant, Harper Valley PTA, American Pie, A Boy Named Sue, Coward of the County, the Gambler, Cat's In The Cradle, Hotel California, Me & Bobby Maggie, County Roads, The Night the Lights Went Out in Georgia, Edmond Fitzgerald, & many more.
Arrive before the matinees for an Elegant High Tea served in the Terrace Room, catered by Gilles Hache. Contact the Meaford Hall Box Office for more information.
Tickets available online at www.meafordhall.ca, by phone 1.877.538.0463 or at the Meaford Hall Box Office.