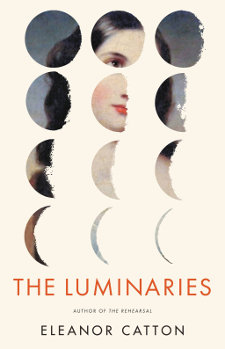 This book, written by the author at the age of 28, won the 2013 Man Booker Prize. This is only her second novel. Her first, The Rehearsal, was written as her Master's thesis at age 22.
This novel is written true to the Victorian novel format. There are many characters, plot twists, and until the very end nothing is as it seems.
This is a long book (863 pages) and at times it can become tedious to read. Character development is extremely intense. I urge you, however, to persevere. Many of our members had some difficulty picking it up to read at times, but all of us thoroughly enjoyed the book after the ending revealed everything. You do not want to read the back first on this one!
For just a hint:
In 1866, a man newly arrived to the New Zealand gold fields encounters a group of 12 men who are meeting in secret to try to unravel several town mysteries. There is a missing man, a prostitute who has tried to take her own life, and a feckless drunk with a large fortune in his cabin. Interested?
The story is mirrored by the zodiac charts for the time and place and characters, hence the name The Luminaries.
This is a book worth reading.
Up next:
April - The Power of One by Bryce Courtney
May – The Goldfinch by Donna Tratt
FOML update:
The Friends of the Meaford Library recently installed a large screen smart TV in the upstairs conference room. This is a welcomed addition to the Library's facilities and would be most appropriate for online education sessions and conference meetings.