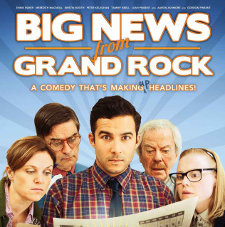 Meaford is in for a special treat March 19: Big News From Grand Rock film Director Daniel Perlmutter will be attending as a special guest, entertaining questions and comments from the audience following the screening at Meaford Hall Arts & Cultural Centre.
Big News from Grand Rock is the story of Leonard Crane, the editor of a small town newspaper facing bankruptcy. In an attempt to attract advertisers and readership Leonard begins inventing stories based on old movies.
The plan pays off until one of the stories attracts the attention of Lucy, an ambitious reporter from the big city. She exposes Leonard's hoax. But then Leonard discovers that one of his stories may be true. With a great scoop but no one to believe him, Leonard and Lucy must team up to try to save the town, the newspaper and his reputation.
"I applaud Perlmutter and his producers — especially Judy Holm and Michael McNamara — for so bravely conjuring up this quaint and slightly surreal saga about the threat to community newspapers. And for making it so appealing, not just to newspaper junkies but to a wider audience because of the comedy and the romance in the story," says Bruce Kirkland, Toronto Sun.
Don't miss this special event in Meaford Hall's 'Thursday Flicks' series – screening Thursday March 19 at 4pm. Tickets are just $10 and available by phone, online and in person.
Next up On the Stage is The Once March 20, followed by The Real St. Patrick March 21. Next up On the Screen is Land Ho! March 26. Exhibiting In the Galleries is Michelle Ward: Forgotten Farms until April 25. For more information on these and other Meaford Hall events visit www.meafordhall.ca,  call 1.877.538.0463 or drop by the box office at 12 Nelson St E.