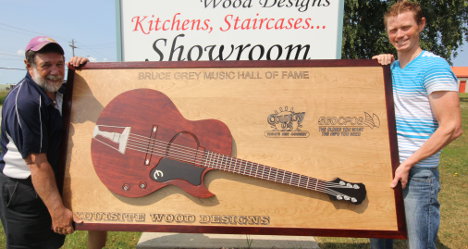 There's a new show back in town at the former Hepworth Country Music Auditorium. Now under the ownership of the Hepworth Shallow Lake Legion, the Auditorium will soon become the home of the new Bruce Grey Music Hall of Fame.
The 'Hall' will recognize, through an application nomination process, those entertainers, musical groups, and media types who have made an influence and a significant contribution to music throughout the counties of Bruce and Grey.
The Hall of Fame is the brainchild of Bill Murdoch and Arnie Clark of Bognor Jam Production & Promotion. Both have been involved together in the local entertainment scene since the mid-1960s. They are particularly known for their old group, The Tombstones, and for their more recent shows, Jailhouse Rock, True Country, and Hepworth's Grand Ole Opry North.
"We don't have a venue such as a local hall of fame to recognize the many talented entertainers who are so well known, some who have become quite legendary," said Bill Murdoch. "We just felt it was time we had a venue to honour our entertainers, both those that are still with us and those that have passed on."
Added Murdoch, "Unlike some music halls of fame, which are limited to entertainers, we are going one step further by also accepting nominations for non-performers such as promoters, entertainment news columnists, radio and TV personalities, and builders."
Murdoch also noted that those involved in all types of music are eligible for induction into the 'Hall'. Although the former Hepworth Country Music Auditorium already has a solid reputation for country music, which started with the founding of the Auditorium by John Kocher, the Hall of Fame will encompass more than just country entertainers.
"We're looking at rock artists, blues, bluegrass, big band, symphony, all kinds of entertainers who have made their mark in Bruce Grey," said Murdoch.
The Bruce Grey Music Hall of Fame will officially be dedicated with a gala afternoon event, Sunday, June 7, at the Legion Auditorium. Six well known entertainers will be announced at that time as the inaugural inductees. The event will be open to the public and admission tickets, $20 per person, are now available at the Legion, from members of the Induction Committee, and in downtown Owen Sound at Fromager Music and Dave Fromager's Music and More.
Along with the official inductees ceremony, the afternoon will feature entertainment by Rudy and Jean Couture, a silent auction, a Funny Farm Live auction hosted by Jim Merriam and Durk Devries, Pelee Island Music Hall of Fame Commemorative Wine, guest dignitaries, some special unveilings, and a delectable Fish Fry dinner served by Legion members.
Successful Hall of Fame inductees will receive a commemorative memento recognizing their achievement. As well, their names will be included on engraved plaques, which will be showcased on a seven foot maple-cherry wood Epiphone replica guitar custom-made by Exquisite Wood Designs of Owen Sound. The guitar masterpiece has generously been sponsored by Exquisite, 560 CFOS, and Country 93 radio.
Induction application forms are now available. Contact 519-371-1152 or 519-371-3918. Deadline for application submissions for consideration for the June 7th induction is May 1.