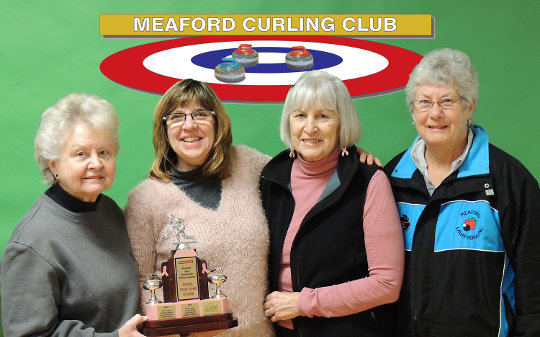 The annual Curl For Cancer Bonspiel at the Meaford Curling Club on Saturday January 23, attracted 41 participants, who raised $2,500 in pledges for the Meaford Hospital Foundation.
"Once again, Muxlow and Thornbury Pharmasave generously sponsored our annual Curl for Local Cancer Care bonspiel. As always, the women thoroughly enjoyed themselves and resoundingly endorsed the idea of keeping this event going," said the Curling Club.
In addition to the pledged funds raised, registration fees and silent auction bids raised an additional $1,300 for the Wheels of Hope Campaign (Canadian Cancer Society drivers).
"Yet another excellent lunch was sponsored by Eagles Weed Control & Lawn Service," said the club.
The winner of the first draw was Verna Wilcox's team of Kay Freeborn, Kathy Harker and Cynthia Sampson.
The winner of the second draw and overall winner of the trophy was Olive Richardson and her team of Robin Tewksbury, Audrey Woods-Dobie and Mary Thibeault.
"This event is yet another example of how Meaford folks pull together for the common good and everyone looks forward to doing it all again next year," the club said.