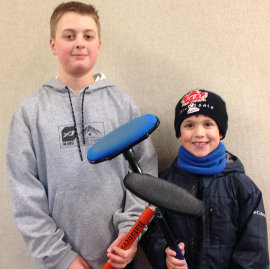 Two local Meaford Junior curlers are off to the Ontario Men's Tankard in Brantford on February 6.
The Meaford Junior Curlers took part in an Ontario Curling Association competition called Hit, Draw, & Tap earlier this season. Their results, tabulated by local representative Carlene Weatherall, were sent to the Ontario Curling Association office and several local participants have been awarded medals.
In the 6 - 8 year-old category, a gold medal went to Sawyer Woodhouse, silver medals went to Natalie Book and Kyla Sim, and a bronze medal went to Piper Smith-Sellars.
For the 11 -13 age group, Cam Lewis received a gold medal, silver medals went to Alex McNally and Ally Pendleton, and a bronze went to Madison Saunders.
Gold medalists Sawyer Woodhouse and Cam Lewis will compete at the provincial level during the 2016 Recharge with Milk Men's Tankard at the Wayne Gretzky Sports Centre in Brantford on February 6. These competitors will celebrate at a pizza party with other Hit, Draw & Tap participants, as well as some of the Tankard curlers, and will then be guests at a Tankard game that afternoon.
Congratulations to all of the medal winners! Special thanks to the Meaford Curling Club for sponsoring the curlers in this event.