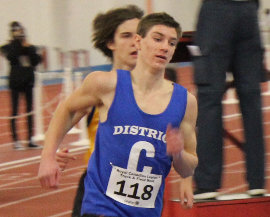 Two members of the Meaford Coyotes Track Club began their 2016 indoor season at York University on January 23, when the Royal Canadian Legion Provincial Track and Field Indoor Championships welcomed athletes from several districts around the province.
Jake Clarke and Sam Nusselder competed for the Legion District C and both are preparing for the national championships in four weeks' time in Montreal.
Jake Clarke, a grade 11 student from Dundalk, had two very strong races. He ran a personal best 800m time of 2:06.78, as he knocked 6 seconds off his previous best from last summer. He placed 10th of 18 runners. With only 90 minutes rest, he cranked out another strong race as he ran 56.07 for 400m, setting a new indoor personal best time. He placed 18th overall and won his heat.
Sam Nusselder, a Grade 11 student from Port Elgin, doubled in the 1,500m and 3,000m events. His day began with the 3,000m event. He was right on pace for a personal best for the first 2,000m of the race, but ran out of steam in the last 1,000. He finished 7th of 9 with a time of 9:32.56 minutes. Three hours later he stepped onto the line for the 1,500m with a race plan to head out with the lead pack. He executed this plan, but the lead pack went out slow so any hopes of a fast time were swept away. He finished with a strong last 300m and placed 4th of 19 with a time of 4:27.50.
Both Jake and Sam compete again with more of their team mates in two weeks' time at an Athletics Ontario Prep Meet.