Area residents and members of local 167-Air Cadet Squadron dominated every category they competed in at the Central Area Cadet Biathlon competition held at Highlands Nordic in Duntroon last weekend.
Braden and Abby Lohnes, Alanna Majzik, Jake and Makala French, and Ari and Rachel Wertheim were part of the twelve competitors from the Owen Sound air cadet group that pushed themselves to their limits through Saturday's two-person relay race, which involved 5 km of intense Nordic skiing looped around two bouts of precision rifle shooting. Out of the over 150 cadets from Central Ontario who competed last weekend, these local athletes managed to win their respective team category and bring a load of individual category medals back home to Meaford.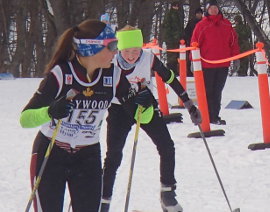 "These young athletes set their individual and team goals back in September and have been training hard ever since to develop fitness, their precision shooting, and their skiing technique," explained proud Commanding Officer Captain Anna-Marie Timmins. "It is such a rewarding and inspiring thing to be able to show these cadets how hard work, commitment, and a positive attitude really does make goals completely achievable."
The combined achievements of this year's team included gold medals for the Junior Male, Junior Female, Open Male, and Open Female teams, plus a silver for the second Open Male team and a bronze for the Mixed Junior team. These talented athletes also brought home medals for individual medals for coming in first and second for the Youth Male category, first and second for the Senior Boy category, first and second for the Senior Girl category, and firsts in both the Junior Boy and Junior Girl divisions. Accordingly, eleven of these athletes have now qualified to travel to the Provincial Championship in Sault Ste Marie in February to vie for a spot on Team Ontario to represent their province at the national championship to be held in Valcartier, Quebec, at the beginning of March.
The aims of the Cadet Biathlon Program are to promote physical fitness, to act as a catalyst for a cadet fitness/sports program, to promote the safe handling of rifles, and to stimulate and maintain an interest in the Cadet program. Cadet biathlon competitors are males and females, aged 12 to 18 years who are part of the Canadian Cadet movement. For more information on the Central Region Cadet Biathlon program or to find out about the Canadian Cadet movement please visitwww.cadets.ca. The 167-Air Cadet Squadron meets each Wednesday evening 6:30-9:30 p.m.at the Tommy Holmes VC Armoury on 10th Street in Owen Sound.