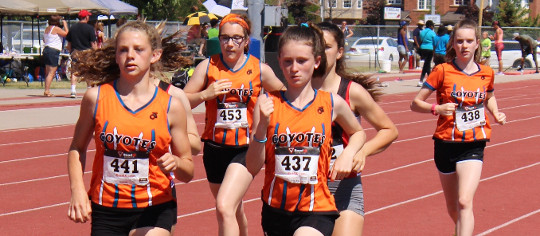 June has been a very busy month for young members of the Coyotes running club as they have competed in numerous school track meets.
There have been several school records broken as well as a few regional records, with the large majority of the Coyotes standing on the medal podium. They have posted countless personal best performances as well.
On Saturday, June 18, twenty-six of the Grade 2-8 Coyotes ventured to Mississauga to put their spring training to the test in our 'season opener'. Not only did they battle stiff competition, the blistering 33'C and high humidity challenged the athletes as well, however neither of those slowed them down. In the morning events the 26 runners posted 21 personal best times and 13 medals and continued that with 11 more personal bests, and 12 more medals in the sweltering afternoon temperatures.
"We had three outstanding Coyotes on the day," said team coach Kevin Hooper. "First was Meaford's own Grade 5 SVE student, Kara Tichbourne. All of her top competition in Ontario were on the starting line with her in the Atom Girls 800m and 1500m events. Kara set out in a punishing pace for the 1500m race in the morning that none could match. She stopped the clock at 5:03.14, which was 12 seconds ahead of her closest rival. It was also unofficially the third fastest time for a '1st year Atom Girl' in Ontario ever, with times recorded for over 40 years. She also unofficially posted the 9th fastest 800m time for a first year Atom with her 2:33.11 pace. Second was Taryn Lee of Owen Sound as she dominated her 1200m Tyke Girls event and unofficially posted the fastest '1st year Tyke' time in Ontario ever with her 4:39.28 personal best time. Third was Owen Sound's Olivia Latham. Olivia is in Grade 2 and moved up an age group to compete against the Grade 3-4 runners. She placed 2nd in the Tykes Girls 1200m event and unofficially posted an Ontario's 'Top 10 of all time' for 1st year Tykes, while still being a Mite age.
One Coyotes member competed in Toronto at York University on June 25-26, and then the team has a weekend free of racing before lacing up to support the annual Meaford Harbour 5km Road Race on Saturday, July 9. Visit their website at www.meafordcoyotes.com for full race details.