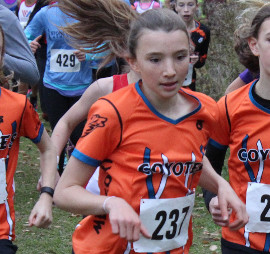 The Meaford Coyotes Track Club sent nine members to the Athletics Ontario Provincial Cross Country Championships at Fireman's Park In St. Catharines on Sunday, November 13.
The runners were greeted with dry race conditions on the mostly flat and twisted course. Large numbers of competitors were present in each race and many of Ontario's top runners were in attendance.
"Our Bantam Girls team [2003-2004] was our only team in this event with five Coyotes competing," said team coach Kevin Hooper. "They had an exceptional race considering two of the girls were at the bottom of the age group and two others were not even old enough to be in the age group."
Hailey Abbot [2004] of Collingwood lead the way as she finished in a strong 10th place of 87 girls over the 2000m course. She stopped the clock at 8:05 minutes, only 19 seconds back from the overall winner. Meaford's Kara Tichbourne [2005] was 20th overall in 8:20 in a very competitive field. The team scores were based on the top four members of each team. The Coyotes girls had a very impressive showing of the 5th of 12 teams.
Ethan Pentland [2003] of Durham was the Coyotes' top finisher of the day, competing in the Bantam Boys [2003-2004] 2000m race in a field off 65. Ethan had a great start and was sitting in the top pack for much of the race. He fell off the pace a bit in the second half of the race and crossed the line in 9th place with a solid time of 7:26 and 25 seconds behind first place.
Owen Sound's Matalyn Lee [2002] and Meaford's Hannah Knight [2002] competed in the Midget Girls [2001-2002] 3000m event. This was the largest field with 106 girls lacing up their shoes. At the beginning of their race, one girl just in front of Mattie and Hannah was tripped up and fell, which created a domino-effect. Both girls managed to avoid the pile up, but ended up at the back of the pack. With a narrow course heading into the bush, they both had to make up ground in the back half of the race. Mattie fought back to a 58th place to finish in 12:16 with Hannah in close pursuit, crossing the line in 70th spot. Her time was 12:30 minutes.
The Coyotes are now on a break before returning on Saturday, November 26th for their winter program. For more information about the Team, check out the website at www.meafordcoyotes.com.
Race Results:
Bantam Girls [2003-2004] - 2000m
Hailey Abbot [2004] - 10th/87 @ 8:05
Kara Tichbourne [2005] - 20th/87 @ 8:20
Olivia Karn [2003] - 27th/87 @ 8:26
Madison Calder [2004] - 30th/87 @ 8:28
Grace Boyce [2005] - 43rd/87 @ 8:42
Bantam Boys: [2003-2004] - 2000m
Ethan Pentland [2003] - 9th/65 @ 7:26
Midget Girls [2001-2002] - 3000m
Matalyn Lee [2002] - 58th/106 @ 12:16
Hannah Knight [2002] - 70th/106 @ 12:30
Midget Boys [2001-2002] - 4000m
Spencer Book [2002] - 53rd/87 @ 16:13
Photos: Ethan Pentland, #446, and Hailey Abbot, #237, were our top male and female performers at the Athletics Ontario Provincial Cross Country Championships held in St. Catharines on Sunday, November 13th.