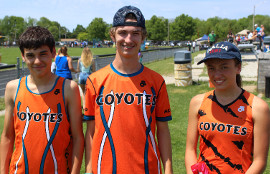 On Saturday, June 10, under windy and hot conditions, the 'District C' Royal Canadian Legion Track and Field Championships were held in Kincardine at the Davidson Centre. Athletes came from Meaford and Owen Sound, over to the Port Elgin and Goderich area, and down to Guelph, Kitchener, and Waterloo.
Age Groups were 17 and Under, 15 and Under, and 13 and Under, based on the competitor's age as of December 31 last year.
Three Coyote members competed in this event, which the team has never participated in before.
"Competition was definitely strong and our Coyotes had to work very hard to earn their places," said team coach Kevin Hooper.
Julia Latham (Owen Sound) won the Girls 17 and Under 800m event in a personal best time of 2:35.22. In the Boys 15 and Under 800m event, Spencer Book (Meaford) took second spot, and Ethan Pentland (Durham) grabbed third place, each running personal best times of 2:12.14 and 2:17.59 respectively.
Ethan Pentland also competed in the 15 and Under 2000m race. He crossed the line in fourth spot, stopping the clock at 6:34.27.
Spencer Book had a short rest after his 800m when he stepped up to the line again in the 1200m, with his legs still feeling a little weak after knocking seven seconds off his 800m time. Book was pleased overall with his fourth place finish in the 1200m with his time of 3:44.65.
With the top two in each event advancing to the RCL Provincial Championships in Windsor on Friday, July 14 and Saturday, July 15, both Spencer Book and Julia Latham will be representing 'District C' and the Meaford Coyotes in their respective 800m events.
The Coyotes return to competition on Saturday, June 24 as the Grade 8 and Under kids compete in Brampton after a busy few weeks of racing several school meets. For more information, check out their website at www.meafordcoyotes.com.
Photo Cutline: From left to right, Coyote members Ethan Pentland, Spencer Book, and Julia Latham competed at the 'District C' Royal Canadian Legion Track and Field Meet in Kincardine on Saturday, June 10. Spencer Book and Julia Latham both advanced to the RCL Provincial Championships to be held in Windsor on July 14 and 15.