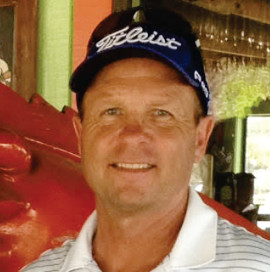 Golf courses are a great place to be during the summer months. The smell of freshly cut grass, the beautiful manicured fairways, and the perfectly maintained greens lure thousands of golfers every day to local courses for a round of golf with friends, colleagues, and family.
I have been in the golf industry for more than 30 years, and have worked with many great people, but none have impressed me more than some of the greens superintendents that I have had the privilege to work with. Greens superintendents work long hours, many times under adverse conditions, and take great pride in the work that they and their staff do every day getting the course ready for members and guests.
I recently met with a couple of local superintendents that I work with, to shed some light on just exactly what's involved in maintaining their courses during the busy golf season. My Golf Academy operates out of two locations, Batteaux Creek Golf Club and the Meaford Golf Club, which are both public courses and service both the playing public, members, and their guests.
Paul Snider is the Greens Superintendent at Batteaux Creek. Paul has been with the club for nine years and currently works with a team of 14 greens maintenance staff. Together they maintain a total of 250 acres, which is about double the average golf course fairway acreage. They maintain 107 sand traps and cut 90 sets of tee decks every day.
To say that this season has been a challenge would be an understatement.
In 2016 the main issue for golf courses was the lack of rain. May, June, and July were all dry, and it was not until August that about 2 ½ inches of rain fell. This year has been quite the opposite. Golf courses in our region have had well over six inches of rain and we are not even into July yet!
In addition to cutting and fertilizing the tees, greens, fairways, and roughs, scheduled maintenance needs to be done. Staff need to top dress tees and greens, verti-cut fairways, and roll and aerate greens. These jobs need to be done and golfers need to be patient when maintenance staff are on the course.
To help keep the course in top condition, players must do their part. Repair your ball marks on the greens, rake the bunkers, fill in your divots on both the tees and the fairways, and keep the power carts away from the tees and greens.
Ivan Alderdice is both the owner and Greens Superintendent at the Meaford Golf & Country Club. Ivan and his four full-time staff work hard to maintain the 110 acres of property. Like the other greens superintendents, Ivan is a dedicated, 'hands on' kind of a guy. He understands the importance of knowing his clientele and ensures that his staff meets the expectations of his members and their guests. Ivan, like many other superintendents, understands that they are constantly under the watchful eyes of members and their guests. Any mistakes made on the maintenance of the golf course are quickly conveyed to Ivan. That is why it is important to maintain high standards of quality and to be able to both predict and react to any adverse changes on the golf course. This year is very busy one for Ivan and his staff. The golf course is undergoing a major transformation. The layout of the golf course is changing and many new tees and greens have had to be built. Trees have been removed, roads, cart paths, and bridges have been built to help move players around the new course. If Mother Nature cooperates, the new layout will be open in early July.
Golf superintendents are at the mercy of both the weather as well as potential diseases that may threaten the golf course. Greens superintendents need to be very knowledgeable and they also have to be able to act very quickly to prevent any damage by insects, pests, pathogens, moulds or funguses that may attack their golf course. The sooner that these types of threats can be identified the lesser effect they can have on the quality of the golf course.
So the next time you are out playing a round, take the time to appreciate the hard work that your greens staff are doing to prepare and maintain your local course. Say hello and even "good job", the next time you pass a worker on the course. Everyone needs to be appreciated!
Next Week: Growing the Game of Golf
Cameron Burechails (Teaching Professional), The Georgian Bay Golf Academy at Meaford Golf Club (705)441-0865, baygolfacademy@bell.net or www.meafordgolf.com.