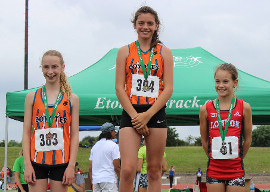 The Meaford Coyotes Track Club sent 16 of their top Grade 8 and under members to the 2017 Minor Track Association Provincial Championships. Over 800 athletes were in attendance at the Centennial Stadium in Etobicoke on Saturday, July 22, and Sunday, July 23, competing in over 1700 different events.
"After a strong performance the weekend before at York University, our young runners were confident and up for the challenge to compete against Ontario's best," said team coach Kevin Hooper. "Saturday we were welcomed with overcast skies and some light showers, but with no winds, it was a great day for racing, All our Coyotes ran their hearts out and gave every ounce energy they had. Day one resulted in a gold medal, one silver, and 10 personal best times."
Grade 6 student Kara Tichbourne set a blistering first lap of 72 seconds on the Atom Girls 1500m and dragged all the top girls with her. The pace slowed a bit and she out-sprinted them to win gold in a time of 5:04.75.
Ethan Pentland, a grade 8 student from Durham, shattered his best time as he won silver in the most exciting finish of the day in the the Senior Boys 1500m. His closing sprint nipped the third place runner and was close behind the overall winner. His time was 4:25.35.
Grade 3 Owen Sound student Olivia Latham shattered her 1200m time in the Tyke Girls race by over 9 seconds. Devlin Gillis, a grade 6 Thornbury student was long over-due for an awesome race and he knocked an impressive number of seconds off his Atom Boys 1500m time.
Sunday's 800m races were even more exciting as the Coyotes won five medals (2 gold, 1 silver and 2 bronze), and set 12 more personal best times, with two others just missing.
Tyke Boys, Emmett Leary and Brennan Law, both grade two Meaford students, won gold and silver respectively in their 800m races running new personal best times. Kara Tichbourne won her second gold of the weekend, leading from start to finish in the Atom Girls 800m with a new personal best. Payton Dodd, a grade 6 Collingwood student, stepped up and surprised a lot of people, winning her first MTA Provincial medal - a bronze - in the Atom Girls 800m with a new personal best. Madison Calder, a Grade 7 Collingwood student, knocked a whopping 10 seconds off her 800m time to steal third spot in the Senior Girls 800m.
"Overall our 16 Coyotes performed above and beyond what we could have imagined. In the two days of competition, we competed in 14 different events and earned 7 medals, set 22 personal best times and had 16 "top-6" placings against the best runners in Ontario. Everyone should be very proud!" beamed coach Hooper.
Photo: Kara Tichbourne [#384], a grade 6 student of Meaford, won double-gold at the Minor Track Association Provincial Championships in Etobicoke on Saturday, July 22rd and Sunday, July 23rd. She was first in both the Atom Girls 800m and 1500m events. Payton Dodd [#383] won her first MTA provincial medal, earning bronze in the Atom Girls 800m.