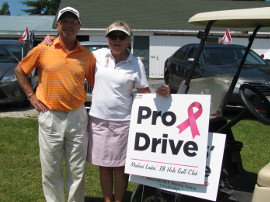 Thirty-eight ladies gathered on Thursday, July 20, for the 10th annual tournament to raise funds supporting the Grey Bruce hospital's efforts to diagnose and treat breast cancer.
As has usually happened on Thursdays this season, the rain came down during the morning, so organizers Bev Reed, Joan Jensen, and Marg Tirpkoff reorganized the day.
"We started with a welcome from Marge Allin, president, and the introduction of special guests from Grey Bruce hospital. Anne Robertson, Director of Medical Imaging and Cardiology Diagnostic Services, and Barb Herron, Manager of Ultrasound, Cardiology, Nuclear Medicine and Peripheral Imaging. Bev, in her remarks, noted that our tournament was begun ten years ago at Norma Younge's suggestion, as her daughter-in-law was diagnosed with the disease," said organizers.
The ladies found the talk given by Anne Robertson very informative and encouraging.
"Grey Bruce now is recognized as a very good facility in the province for their diagnostics, modern equipment, and continual upgrading," noted organizers.
A part of their program that patients find very helpful is the role of a 'Navigator'. This person helps the patient, guiding them through the process, answering questions and giving support. Because of the improved digital equipment, a mammogram, ultrasound, and/or biopsy can be usually done on the same day. The mammogram machine itself is much improved with digital pictures, less time of compression for the breast, and the radiation dose rate is lower. Because the hospital now does up to 10,000 examinations per year along with 4,000 diagnostics and biopsies, equipment does need replacing.
"Small groups like ours can contribute to the smaller needs and our donation will go toward replacing the paddles used for mammograms. One paddle costs $7,000, so it is a continual effort to raise the needed funds," said organizers of the event.
Bev thanked the speaker and noted that the donation from the day was approximately $2,700 and that over the ten years, the ladies golf club had raised $24,000. She then introduced Marg Tirpkoff, who spoke of her own battle with breast cancer seven years ago. Because of the early detection program, it was discovered that she carries the BRCA gene. Through treatment, Marg has been cancer free.
The dining room looked very festive with balloons, and flowers (donated by Nancy Ellis of Simply Unique flowers). Many members helped with registration, selling raffle tickets, providing morning snacks, setting up the special contest signs, decorating, etc. Mary Alderdice of the Meaford Golf and Country Club was thanked for donating the guests' green fees and giving us a break on the cart fees. A carnation for each participant was also provided by Nancy of Simply Unique.
"We enjoyed our lunch and finally the sun came out, enabling us to play nine holes," noted organizers.
Prizes were given for 'Closest to the rope', won by Kay Freeborne; 'Longest Drive' by Marilyn Clock; 'Best Score for 9', the team of Doris George, Sue MacDougald, Anne Robertson, and Deb Younge. There was a tie for second place between the team of Cathy Seidle, Mary Anne Alexander, Sue Adamson and Carole Freye, and the team of Bev Reed, Kelly Culbertson, Tracey McNally and Marilyn Clock. Marilyn also won the 'Putting Contest'.
The event featured many donated raffle prizes. A gift basket, donated by Joan Jensen and won by Teddy Murray; 18 holes of golf and cart for 4, donated by Stone Tree and won by Julie McGregor; a limestone cheese board, donated by Kelly Culbertson and won by Anne Robertson; a gift certificate donated by Bill Pearson, 'The golf Garage', and won by Julie McGregor; a Mary Kay gift basket, donated by 'Pampered by Gail' and won by Barb Herron; 18 holes of golf for two, donated by Duntroon Highlands and won by Maggie Holmes; a casserole dish donated by Doris George and won by Teddy Murray; a gift certificate, donated by Scandinave Spa and won by Carol Robson; 18 holes of golf for two, and cart, donated by Legacy Ridge, Owen Sound, won by Shirley Carpenter; a gift basket, donated by Joan Lounds and won by Joan Martin; a ladies golf bag, donated by Shane Walsh of HollisWealth Advisory and won by Suzie Kellet.
"We also had water donated by Ice River Springs, a sleeve of balls for each lady participating in the 'Drive like a Pro' contest was donated by Knights Home Hardware, and signs for the Putting Contest and Drive like a Pro were provided by Avenue A. Thanks to Doug Thompson, Brian McColgan, and Jack Peckitt for helping with the contests, and to Cameron Burechails for doing the 'driving' in the 'Drive like a pro' contest," said organizers. "Our next special day will be Field Day on August 17, and a reminder that we are to bring a donation for the Foodbank."