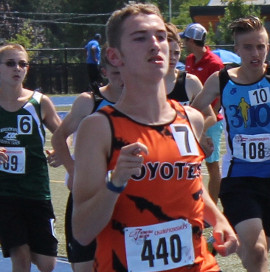 Athletics Ontario held their 2017 Track and Field Championships in Brampton on Saturday, July 29, and Sunday, July 30. The Meaford Coyotes sent a small but powerful group of six to compete against Ontario's best, as their track season came to a conclusion. With very impressive results the last two weekends, the Coyotes were hungry for more.
On Saturday, July 29, four of the six Coyotes competed in the 1200m event, with impressive results. Kara Tichbourne started things off with a 4th place finish in the Grade 6-7 Bantam Girls 1200m with a personal best time of 3:55.29. Madison Calder struggled with a head cold and fell off the pace in the second half of the race, taking 12th spot in 4:13.49. Ethan Pentland and Spencer Book had huge improvements in the Grade 8-9 Midget Boys 1200m. Ethan took 10th spot in 3:29.77 and Spencer Book was a close 12th in 3:31.44.
All six Coyotes competed in their respective 800m events on Sunday. In the Bantam Girls 800m, Madison Calder and Kara Tichbourne led the pack from start to finish, with Madison winning gold in 2:24.16 and Kara stopping the clock in a personal best time of 2:25.52 to win silver.
Jenelle Lyman competed in her first ever AO Provincial Champs as she lined up in the Grade 8-9 Midget Girls 800m. She had a great start and faded just a little on the last 100m to take 8th spot, just missing her best time by 0.33 seconds. She crossed the line in 2:27.75.
Julia Latham competed in the Grade 11-12 Youth Girls 800m. Her training had gone well over the last month, but she didn't have the race she was hoping for. She ran 2:42.11 to place 25th.
Spencer Book and Ethan Pentland were up next with high goals in their Midget Boys 800m race. Ethan ran a new personal best of 2:07.28 and finished 9th overall. Spencer went out quickly in the 'fast heat' and surprised the entire field. He led from start to finish and, with a finishing sprint at the line, the first three runners were separated by only 0.5 seconds, with Spencer capturing gold.
"It was an impressive two days for our six Coyotes. In ten opportunities, we won two gold and one silver medal, a fourth place finish, six personal best times, and seven 'top-10' placings," noted team coach Kevin Hooper.
For more information about the team, check their website at www.meafordcoyotes.com.
Results: (* = personal best time)
Bantam Girls (2004-2005)
800m:
Madison Calder - 1st/16 @ 2:24.16
Kara Tichbourne - 2nd/16 @ 2:25.52*
1200m:
Kara Tichbourne - 4th/22 @ 3:55.29*
Madison Calder - 12th/22 @ 4:12.79 -sick
Midget Girls (2002-2003)
800m
Jenelle Lyman - 8th/35 @ 2:27.75 - missed PB by 0.33 sec
Youth Girls (2000-2001)
800m
Julia Latham - 25th/29 @ 2:42.11
Midget Boys (2002-2003)
800m:
Spencer Book - 1st/33 @ 2:03.36*
Ethan Pentland - 9th/35 @ 2:07.28*
1200m:
Ethan Pentland - 10th/36 @ 3:29.77*
Spencer Book - 12th/36 @ 3:31.44*
Photo: Spencer Book won a gold medal in the Midget Boys 800m at the Athletics Ontario Provincial Track and Field Championships in Brampton on Sunday, July 30