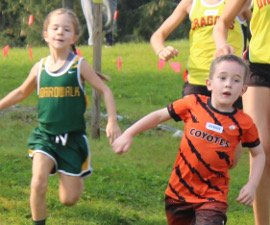 With sunny, warm, dry and calm weather conditions, the Meaford Coyotes had a perfect day of racing at the Durham Dragons Cross Country Meet in Pickering on Saturday, September 16.
The event was an opportunity for 21 members of the Coyotes running club in grades one through eight to put to the test their past six weeks of training as they prepare for larger events later in the season.
"All our runners pushed themselves hard and have seen positive results for their hard efforts in training," said tam coach Kevin Hooper. "We had two gold, three silver and one bronze medal on the day along with eight top-five performances and three first place teams. Congrats to Nathan and Emmett Leary on their gold medal performances in the Pee-Wee Boys and Mite Boys races respectively, both from Meaford. Congrats also to William Olivier of Meaford and Taryn Lee of Owen Sound and Payton Dodd with their silver medal efforts respectively in the Mite Boys, Tyke Girls and Atom Girls events. Congrats finally to Luke House of Owen Sound with his bronze medal race in the Tyke Boys race. A great start to the season."
The Coyotes return to action in Meaford on Saturday, September 30th as the team host their 7th annual Coyote Cross Country Race for 400 grade 1-8 students from across Grey-Bruce and into Collingwood. The race will be held at the Georgian Bay Community School Athletic Field with the first race beginning at 10:00am.
Pee-Wee Boys 760m - [2011+]
Nathan Leary - 1st/2 @ 3:32.75
Mite Boys 1033m - [2010-2009] - 1st place team
Emmett Leary - 1st/9 @ 4:00.99
William Olivier - 2nd/9 @ 4:03.31
Brennan Law - 5th/9 @ 4:20.53
Sebastien Mei - 7th/9 @ 4:59.25
Tyke Girls 1420m [2008-2007] - 1st place team
Taryn Lee - 2nd/15 @ 5:29.18
Olivia Latham - 5th/15 @ 5:54.79
Ava Olivier -12th/15 @ 6:51.25
Tyke Boys 1420m - [2008-2009] - 1st place team
Luke House - 3rd/14 @ 5:32.09
Ethan Mei - 4th/14 @ 5:32.43
Kaj Kulakowsky - 6th/14 @ 5:45.31
Wes Brown - 9th/14 @ 6:29.98
Graeme Manwell - 10th/14 @ 6:29.98
Noah Boughflower - 14th/14 @ 6:35.21
Atom Girls 1992m - [2006-2005]
Payton Dodd - 2nd/23 @ 7:50.62
Atom Boys 1992m - [2006-2005]
Devlin Gillis -12th/21 @ 7:58.03
Rohan Egan - 13th/21 @ 8:00.56
Dominic Manwell - 17th/21 @ 8:35.94
Jacob Boughflower - 21st/21 @ 9:57.81
Senior Girls 2925m - [2004-2003]
Zoey Killeen - 14th/21 @ 13:00.15
Senior Boys 2925m - [2004-2003]
Jeffrey McPherson - 9th/9 @ 13:30
Photo: Grade 1 SVE student, Lathan Leary won the Pee-Wee Boys 760m race on Saturday, September 16th at the Durham Dragons Cross Country Meet in Pickering