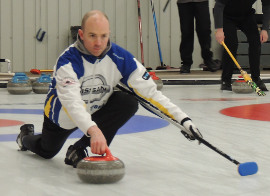 There are many, many people who are avid watchers of curling on television, but have never actually played the game, yet it truly is one of the greatest participation sports on earth. Everyone on the team has to play their part for the overall success of the team, it's highly social, and also provides a wonderful source of exercise.
The average player does not have to sweep with the vigour shown by the pros – the game can be played at one's own pace, and it can be played by folks of all ages. If you can't get down into the hack, you can push the rock with a push stick.
At the Meaford Curling Club, there are members from junior school clear through to their eighties. For those who wish to try it for the first time there is a special novices rate and there is also a free clinic which takes place prior to the season.
On Thursday, October 5, there will be a registration night at the club where there will also be a Q & A desk. For those who prefer the electronic age, registration can take place online – visit meafordcurling.ca. Don't wait another year, give it a whirl. You will be glad you did.