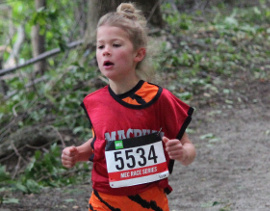 On Craft Show Saturday, September 30, the Meaford Coyotes Track Club hosted their 7th annual cross country race at the Georgian Bay Community School athletic field.
After strong and heavy rain pummelling the area the evening before, several large branches were dropped onto the race course. A mad scramble by a very dedicated and hard working course set-up crew beginning in the early hours got the track ready to go right on schedule, with only minutes to spare.
"Even a chain saw was brought in to clear one dropped tree. Race day gave perfect conditions with sunny/overcast skies, a dry course, 8-10'C and only light winds," said team coach Kevin Hooper.
There were a record number of registrations this year that were limited to the first 400 athletes to sign up. There were 340 grade 1-8 runners that showed up on race day along with another twenty 5-year-old and under kids who competed in a friendly pre-race 150m event. Elementary schools from across Grey-Bruce as well as into Collingwood were invited, as well as a track club from Port Elgin to participate in the increaingly popular event.
The course was a one kilometre loop around the athletic field, up a short but challenging hill onto the Georgian Trail and then back onto the field. Depending on the age groups, the kids ran 1km, 2km or 3km races, with numerous outstanding performances on the day.
"Our young Coyotes performed in shining fashion as 24 top-10 placings and 8 medal finishes were posted on the day," said Hooper.
Outstanding Coyote performances came from several races. Freja Kulakowsky, a grade two Macphail Elementary student in Flesherton, ran away from the Grade 1-2 girls in a deep field of 43. Her gold medal race over the 1km course was 4:26 minutes.
In the Grade 3-4 Girls 2km event, Coyote veteran Olivia Latham, a grade four Notre Dame student from Owen Sound was in a photo-finish battle to the end. She was nipped by a nose at the line and took silver with a time of 8:53 minutes. Kai Kulakowsky, a grade four Macphail Elementary student, was only three seconds back of the leader as he took silver in the Grade 3-4 Boys 2km race. His time was actually faster than the Grade 5-6 Boys winning time. Grade five East Ridge student, Taryn Lee from Owen Sound was in a close sprint to the finish as she was only 2 seconds back of the in the Grade winner in the Grade 5-6 Girls 2km race. Luke House of Owen Sound was in a sprint to the finish as well as he took silver in the Grade 5-6 Boys 2km event. Kara Tichbourne, a grade seven GBCS student in Meaford had a solid gold medal performance in the Grade 7-8 Girls 3km trek against 40 girls.
"All our Coyotes are now into their school competitions over the next few weeks. The team compete again in Etobicoke on Saturday, October 28th as they prepare for upcoming Provincial Championship competitions," said Hooper.
Grade 1-2 Girls 1km Race:
Freja Kulakowsky - 1st/43 - 4:26
Nathan Leary - 9th/41 - 5:09
Grade 3-4 Girls 2km Race:
Olivia Latham - 2nd/47 - 8:53
Taryn Weppler - 7th/47 - 9:56
Natalie Book - 18th/47 - 11:19
Kaj Kulakowsky - 2nd/58 - 8:06
Brennan Law - 3rd/58 - 8:34
Emmett Leary - 4th/58 - 8:34
Graeme Manwell - 6th/58 - 9:02
William Olivier - 7th/58 - 9:03
Edmund McPherson - 9th/58 - 9:08
Noah Boughtflower - 20th/58 - 9:40
Jackson Squire - 21st/58 - 9:44
Grade 5-6 Girls 2km Race:
Taryn Lee - 2nd/41 - 8:12
Catherine Currie - 4th/41 - 8:45
Megan Cowan - 6th/41 - 8:53
Ava Olivier - 17th/41 - 9:36
Lilly Campbell - 27th/41 - 10:21
Luke House - 2nd/51 - 8:08
Wes Brown - 8th/51 - 8:40
Dominic Manwell - 14th/51 - 9:04
Jacob Boughtflower - 28th/51 - 9:46
Cole Gillis - 31/51 - 9:56
Grade 7-8 Girls 3km Race:
Kara Tichbourne - 1st/40 - 11:18
Hailey Abbot - 2nd/40 - 11:27
Madison Calder - 4th/40 - 12:02
Payton Dodd - 5th/40 - 12:14
Leah Ray - 8th/40 - 13:01
Zoey Killeen - 10th/40 - 13:07
McKeena Karn - 16th/40 - 14:33
Sydney Martin - 20th/40 - 14:52
Payton Weppler - 22/40 - 15:11
Lauren Sziklai - 35th/40 - 16:57
Devlin Gillis - 4th/19 - 12:13
Rohan Egan - 5th/19 - 12:22
Jeffrey McPherson - 6th/19 - 12:44
Photo: Grade 2 Macphail Elementary School student Freja Kulakowsky started the day off on a dominate note for the Coyotes as she ran away from the field of 43 in the Grade 1-2 Girls 1km race. This was Freja's first race as a Coyote.