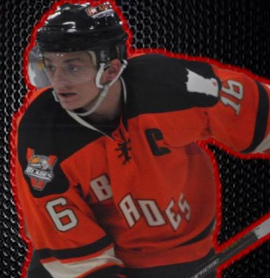 The Knights of Meaford have added a new forward they expect will add scoring punch to their roster.
The Knights recently announced the acquisition of American forward Chase Lewis. As a team captain of the Steele County Blades in the USPHL Elite Division, Lewis had 59 goals and 66 assists in 103 games. He is from Winston-Salem, North Carolina.
"I'm really excited about being in Meaford," Lewis said. "I love this town and I can't wait to get on the ice and help this team win a Russell Cup."
Members of the Knights coaching staff are happy with the addition of Lewis to the team's deep roster.
"I'm very pleased about the recent acquisition of Chase Lewis," said Assistant Coach Dean Martin. "Chase is a top six forward whose speed and scoring ability will help take our hockey club to the next level."
The Knights return to action on Thursday, November 9 against the Temiscaming Titans. Puck drop at the Meaford Arena is 7:30 p.m.