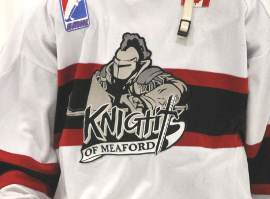 The Knights of Meaford had an undefeated weekend.
The schedule for the team couldn't have been tougher with a home game against the tough Bradford Rattlers on Saturday night and a road game in Fergus the following afternoon.
The Knights exploded for 18 goals in the two games to come away with 6-4 and 12-4 wins. The team has now won three in a row.
"It was great to get two wins in two days," said coach and general manager Nathan Parrish. "The win on Saturday was a big one for our team. It was a real confidence booster."
The Knights used a balanced scoring attack, great goaltending and a strong third period to take down the Rattlers. Goalie Graeme Gemmill was the first star with 39 saves. Chase Lewis had two goals and Justin Pereira had three assists.
The Knights put the game away in the third period, outscoring the Rattlers 3-1 in the final frame.
The team followed up the big win over Bradford with a convincing 12-4 road victory over the Fergus Force. It was a penalty filled game, with 17 Knights recording at least one point. Newly acquired goalie Tyler Sayger made his debut with the Knights and turned away 41 shots for the win. Mitchell Bolduc had a goal and four assists, while Skylar Robertson had a goal and two assists. Connor Long and Callum Queenan had two goals each.
The win in Fergus was the third in a row for the Knights after a five-game losing streak, which featured a couple of heart breakers
"It's nice to be on a roll after a couple of tough shootout losses," said Parrish.
The Knights now have a record of 12 wins, five losses and three overtime/shootout losses for a total of 27 points. They are fourth place in the standings, just one point behind the third place Rattlers and seven points back of the first place Temiscaming Titans.
The Knights play two home games this week. The team once again faces the Fergus Force on Thursday night with puck drop at 7:30 p.m. The Seguin Huskies come to town on Saturday night with puck drop at 7 p.m.