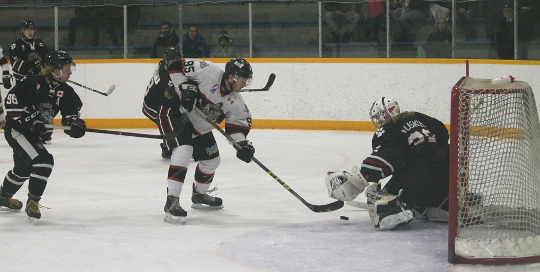 The Knights of Meaford ran their winning streak to five with a convincing 6-2 win over the Seguin Huskies at the arena on Saturday night.
The shorthanded Knights, missing two key players – Will Vernon and Chase Lewis – to suspensions, dominated the game out-shooting the Huskies 37-23 and controlled the play at both ends of the ice.
Leading scorer Tyler Strutz showed off his offensive skills with a goal and three assists. Jeff Hyndman picked up two goals in the game. Daniels Leja had a goal and an assist, while defensemen Connor Long and Daniel McCall each had two assists. Goalie Graeme Gemmill turned away 21 shots for the victory.
"That was a big win, we had two key guys out for suspension. Jason Stone and Dan McCall had big games for us and Tyler Strutz and Callum Queenan were both really good," said assistant coach and Head Scout Danny Smith.
The win moved the Knights into third place in the North Division at 14-5-3 with 31 points. The Knights had little time to savour the win with a game looming the following afternoon on the road against the second place Almaguin Spartans.
"Our fourth line guys really played well and scored a big goal," said Smith. "They have really been stepping it up."
The Knights play at home next on Thursday, November 30 against the Bradford Rattlers. Puck drop is 7:30 p.m.
Photo: Knights forward Jeff Hyndman fired this loose puck into the Seguin net for one of his two goals in the win.