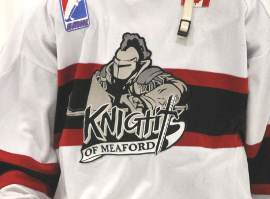 A season of streaks continues for the Knights of Meaford.
Last week, the Knights dropped a pair of games – falling 4-3 on home ice to the Bradford Rattlers and 6-2 on the road against the Ville-Marie Pirates. After a five-game win streak, the Knights have now lost three in a row.
On November 30, the Knights lost a tough one to the Rattlers. Tied at three, with just over four minutes to play, the Rattlers scored the winning goal on a power play. The Knights had battled back from an early 2-1 deficit to have the game tied going into the third.
Goaltender Graeme Gemmill was strong in net, stopping 34 of 38 shots in the loss. Mitch Bolduc had two goals, while team scoring leader Tyler Strutz had two assists. Daniels Leja had the other Meaford goal.
Two nights later, the Knights made the long trip to Ville-Marie in Quebec to take on the Pirates. Ville-Marie outscored Meaford 5-1 over the final two periods for an easy 6-2 victory. Eric Lowry and Will Vernon scored for Meaford. Tyler Sayger had a strong game in next stopping 41 shots in the loss.
The Knights have two games this week. They are at home on Thursday, December 7 for a tilt against the New Tecumseth Civics. Puck drop is 7:30 p.m. On Friday, December 8, the Knights travel to Almaguin to renew acquaintance with the Spartans. Meaford currently sits fourth in the North Division with 14 wins, 8 losses and 3 overtime/shootout losses for a total of 31 points.
Following those two games, the Knights travel to Port Colborne on December 12 for the GMHL's annual Showcase event. The team will play two games that day. They take on the Bradford Bulls at 11 a.m. and at 3 p.m. they take on the powerful St. George Ravens.