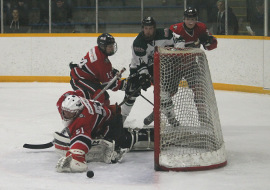 The shootout continues to be a nemesis for the Knights of Meaford.
The Knights were beaten 3-2 in the dreaded shootout by the first-place Almaguin Spartans on January 11 at the arena. It was the second straight loss for the team since the Christmas break.
The Knights battled the Spartans hard the entire game and put forth one of their strongest efforts of the season in the contest. Meaford carried a 2-0 lead into the third period on goals by Tyler Strutz and Ethan Cornford. Spartans forward Mathew Labrosse scored two goals in the third period to tie the game.
The Knights were a victim of bad luck on the second Labrosse goal, which deflected off a stick and floated into the top corner over the shoulder of goalie Maris Saulgriezis. Five minutes of overtime didn't produce a result and the game went to the shootout. One Spartans shooter was able to score, while the Knights were blanked.
Head Coach Nathan Parrish was pleased with the effort.
"If we compete like that every night, I don't have any problems coming to the rink every day," he said. "Marius was great in goal. We just can't seem to figure out shootouts."
Saulgriezis was outstanding in goal for the Knights the entire game. He made several key saves, including one critical stop with about 1:30 to play in the third to keep the game tied.
Connor Long, Mitch Bolduc, Callum Queenan and Skylar Robertson picked up assists on the two goals.
The Knights were sporting a new look for the game. Over the holiday break the team had an influx of new talent arrive to bolster the roster. The team acquired five new players in recent weeks. Cornford, former Knight Jack Underhill, Daniel Bureau, Brayden Patterson and goaltender Raffaele Izzo joined the team this week.
"They are some younger guys and are bringing some fresh energy, which is something we need at this time in the season," said Assistant Coach Dean Martin. "They're helping us out a lot. It's nice to have the extra depth."
The Knights are currently in 5th place with a record of 16-10-5 for 37 points. They are back in action on Saturday night at home against the New Tecumseth Civics with puck drop at 7 p.m.
Photo: Knights of Meaford goalie Maris Saulgriezis reaches for a loose puck during a scramble around Meaford's net.