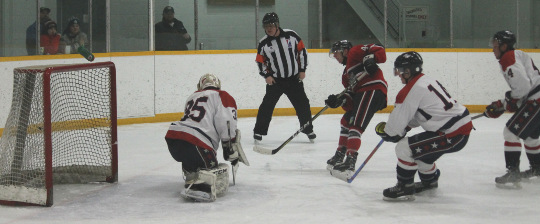 The Knights of Meaford finished a strong week with a big 4-2 victory over the New Tecumseth Civics on Saturday night at the arena.
Forward Callum Queenan was the scoring star in the game with two goals and an assist. The Knights used strong special teams play – two power play goals and one shorthanded goal – to get the victory.
Meaford stormed out to a 2-0 lead, only to see the Civics tie the game with 13:59 to go in the third period. However, there was no let down for the Knights and they regained the lead 10 seconds later on a big goal from Daniels Leja.
"We had a good, solid and consistent effort tonight. I was happy with our determination," said Head Coach Nathan Parrish. "Getting the third goal right after they tied it at two showed a lot of intestinal fortitude. There was no quit in the boys tonight."
The win gave the Knights three out of four possible points this week after a shootout loss earlier in the week. Parrish said the team's goaltending has been terrific.
Tyler Sayger was excellent in net, making 33 saves in the victory.
"Our goalies have been great. Our strong team effort starts in net and it works its way out to the rest of our guys," said Parrish.
Sylar Robertson had a goal and an assist in the game. Colton Langowski had two assists. Single assists went to Tyler Strutz, Jason Stone, Justin Pereira and Daniel McCall.
The win gives the Knights a record of 17-10-5 for 39 points. They are in fifth place, five points ahead of the Civics in the standings. The team is just three points behind the Bradford Rattlers for fourth place. The Knights are back in action on Thursday night on home ice when the Temiscaming Titans come to town.
Photo: Knights of Meaford forward Callum Queenan knocked the water bottle for the New Tecumseth Civics goalie off the net with this goal on Saturday night.