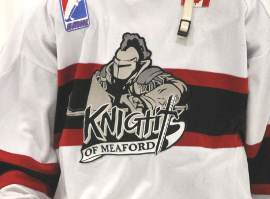 The Knights of Meaford pulled off a franchise first on Thursday night beating the Temiscaming Titans for the first time ever.
Meaford beat the league powerhouse 4-3 in a back-and-forth and entertaining contest. The hero of the game was newly acquired goalie Raffaele Izzo, who made 52 saves in the game.
"That was a huge, huge win for our organization. That's the first time we have beat (the Titans) in five years," said Assistant Coach and Scouting Director Danny Smith.
The forward line of Callum Queenan, Skylar Robertson and Ethan Cornford provided all the offense for the Knights. Robertson and Cornford each had two goals and two assists, while Queenan picked up four assists in the game.
Smith said the entire team is firing on all cylinders right now and he's looking forward to seeing how the rest of the season plays out.
"We've had some ups and downs since the (Christmas) break. But since the Almaguin game, we've been on the up and up and we want to keep riding it."
The Knights now have a week off, before two road games next week against the New Tecumseth Civics and the Sequin Huskies on Thursday and Saturday (note: there is no home game next week). The team's record is 18-10-5 for 41 points.