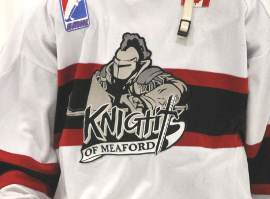 The Knights of Meaford earned a split in a pair of tough road games last week.
On January 25, the Knights travelled to Alliston to take on the New Tecumseth Civics. The Knights played a strong game but weren't able to get the big goal to tie the game and left with a 3-2 loss. Goaltender Raffaele Izzo, playing in his second straight game, was outstanding in net for the Knights, stopping 47 of 50 shots he faced.
Colton Langowski and Tyler Strutz scored for Meaford. Ethan Cornford continued his hot streak with two assists.
Two nights later, the Knights travelled to Seguin to take on the Huskies. Meaford jumped out to a 3-1 lead in the first two periods and nursed the advantage home to a 4-2 victory.
Once again, goaltending was the story for the Knights. Maris Saulgriezis was in top form, stopping 34 of the 36 shots he faced. Daniels Leja had a big night with two goals and one assist. Jack Underhill found his legs in the game with a goal and an assist, and Eric Lowry had the other goal for Meaford.
The split gives the Knights a record of 19-11-5 for a total of 43 points.
The team faces a busy week with three games in four days. The Knights return to home ice on Thursday night (February 1) against the South Muskoka Shield in the first game of a home-and-home series. Puck drop is 7:30 p.m. Two nights later (February 3), Meaford heads to Gravenhurst to take on the Shield, with puck drop at 8:30 p.m. The following day (February 4), the Knights travel to Bradford to take on the Rattlers. Puck drop is 7:30 p.m.