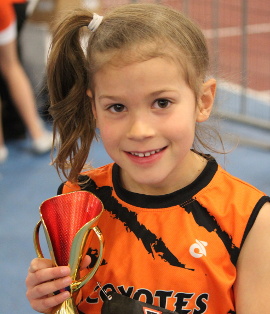 On Saturday, February 10, the Meaford Coyotes Track Club braved the elements and ventured to Toronto for the Flying Angels Indoor Classic at York University's indoor 200m track.
"Poor weather conditions have continued to challenge our outdoor training this winter, but our 'tough as nails' young runners don't let this stop them. We work with what we have and make the best of it," said team coach Kevin Hooper.
Each of the 18 Coyotes competed in two events that day and came home with more impressive results. Of the 16 races in which they competed, Coyotes team members earned four gold medals, one silver medal, three bronze medals, had 19 Top-5 placings, and had 15 personal best performances, with several others just missing personal best times by mere seconds.
Freja Kulakowsky won two first place trophies in the Mite Girls 400m and 800m races, while Liam Law earned a silver and bronze medal in the Mite Boys 800m and 400m respectively. Olivia Latham grabbed a first place trophy in the Tyke Girls 1200m and a bronze in the 800m events. Other strong performances came from Emmet Leary with his bronze medal-finishing sprint in the Tyke Boys 800m, as well as Hailey Abbott's gold and teammate Kara Tichbourne's bronze in the Senior Girls 1200m races.
"Overall it was a very good day at the 'office' as they are all in the depths of heavy training right now and running on tired legs," said Hooper. "As the weather conditions improve over the next month, we will be able to put several strong workouts together as the team prepares for their provincial championships at the end of March in Toronto."
For more information about the Team, check out their website at www.meafordcoyotes.com
Photo: Seven-year-old Freja Kulakowsky of the Town of Blue Mountains won two 1st place trophies at the Flying Angels Indoor Classic on Saturday, February 10 in Toronto