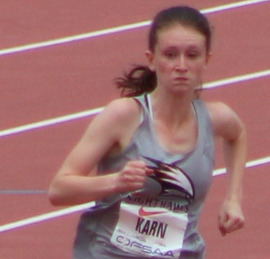 The Pan-Am Games athletic facility at York University in Toronto was host to the 2018 OFSAA Ontario High School Provincial Track and Field Championships on Thursday, June 7th - Saturday, June 9th. Weather conditions were perfect each day for fast times and three members of the Georgian Bay Coyotes Track Club came ready to run.
Olivia Karn, representing Orillia Secondary School, competed in the grade 9 Midget Girls 200m and 400m events - quite an accomplishment for a distance runner. She started off Thursday with her 400m event. She ran a very solid race the entire way, taking 8th spot in her heat and 24th overall. Her time of 1:02.76 was just shy of her personal best that she set last week at the OFSAA Central Championships. On Saturday, she laced up again for the 200m. Running strong off the turn, she headed for home and cross the line in 27:47, only 0.36 seconds off her personal best, also set last week. She placed 6th in her heat and 21st overall.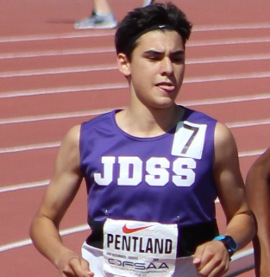 Ethan Pentland, representing John Diefenbaker Secondary School in Durham, competed in the grade 9 Midget Boys 1500m event. On Thursday he comfortably won his heat in 4:23.37 to advance to the final on Friday afternoon. He executed his race plan perfectly as he sat near the back of the pack of 12 runners for the first 800m, then moved up to the front pack of five with 600m to go. With one lap left he was about 10 seconds ahead of his personal best time, still sitting in 5th spot. At 1200m he ran out of gas and fell off the pack, but still finished with an impressive 7th place in a time of 4:17.78 and only 1.6 seconds off his best time set last week at the OFSAA West Championships.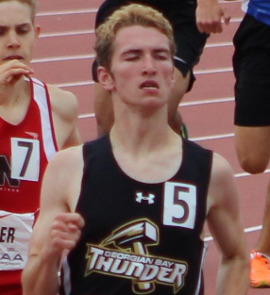 Spencer Book, representing Georgian Bay Community School in Meaford, laced up in the grade 10 Junior Boys 800m on Saturday morning. He was in the first heat of three, with only the top two in each heat automatically advancing and then the next two fastest times would also advance. His plan was to sit in the middle of the pack for the first 300m and unleash his wicked 400m sprint. He also executed his race plan perfectly and was sitting in second spot with 50m to go. A strong charge at the end by another competitor nipped Book at the line. Book took 3rd in his heat and missed the finals by 0.23 seconds. His time of 2:00.62 was just 0.51 seconds off his best time set last week at OFSAA West. Spencer placed 10th overall.
"Our three Coyotes have represented the Team and their schools well over the last four weeks of competition," said team coach Kevin Hooper. "They now return to the "drawing board" for four weeks of heavy training before competing again with the rest of their team mates at the Flying Angels International Meet on July 7-8 in Toronto."
For more information about the Team, visit our website at www.georgianbaycoyotes.com.