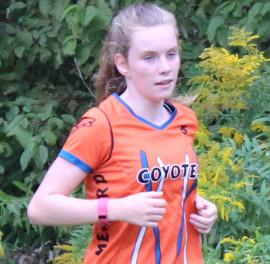 Hannah Knight of the Georgian Bay Coyotes Track Club competed at the Royal Canadian Legion District-C Meet held in Kincardine on Saturday, June 23. She was the lone Coyote at this meet.
Her 3,000 metre race in the 17-year-old and under division in the morning began under humidity high. She started off on a good pace, but fell back off the lead to place second in a time of 12:28.41. In the afternoon, the humidity broke and racing became easier. Her 800m event was stronger as she cross the line in third place with a time of 2:44.91, only 0.23 seconds off her personal best time.
Hannah will compete again in Toronto on July 7 and 8 with her team mates.