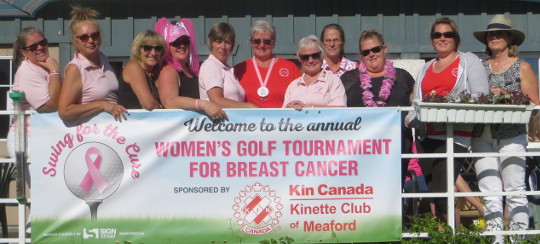 The Kinette Club of Meaford has announced that their 19th annual 'Swing for the Cure' women's breast cancer golf tournament held on Saturday, June 2, at the Meaford Golf and Country Club was another roaring success.
"The weather was perfect, the 81 golfers were all dressed up, and the fun was endless," said Kinette Bonnie Bumstead. "I always say that this golf tournament is not about the golf, it is about the cause and raising money to cure this dreadful disease. Fun, Fellowship and Fundraising. The medical community is making amazing advances every day and we are proud to be a part of this fight."
The event raised roughly $8,250, which will be donted to the Breast Cancer Society of Canada.
"This brings our grand total over 19 years up to an amazing $141,000," noted Bumstead.
Next year 's event will be held on Saturday, June 1, 2019, at the Meaford Golf & Country Club. Gather a foursome of women and come join us for a great day of fun, fellowship, and fundraising.
Photo:
L to R
Chris Weldrick, Heather Daye, Faye Fisher, Kinette President Dana Hawton, Kim Lee, Tournament Chairperson Bonnie Bumstead, Chris Caesar, Joan Knight, Ashley Clock, Cynthia Crawford & Darlene White.