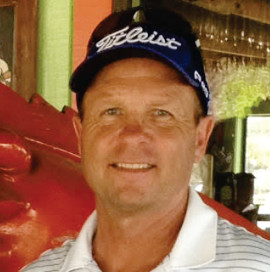 The game of golf is the closest game that I know of to the game of life. Every day you wake up, you get dressed, organize yourself, have something to eat and get ready to head off for work. You usually don't know how your day will go or what you might be up against but you head out with optimism and enthusiasm nonetheless.
Some days the sun shines and other days the wind blows in your face and you may have to endure a storm or two, and some days life is a just 'a walk in the park'!
Great players understand that the game of golf is exactly that, a game! To play it well you must think clearly, control your emotions and be able to look in front of you rather than behind you. You need to have patience, be willing to take chances, and understand that you will make both good and bad decisions during a round of golf.
The great thing about golf is that you always will have another chance to play another day! Tomorrow is a new day and if you can take what you learned from your previous round then your next round has to be better. Even mistakes can teach us valuable lessons. If you learn from your mistakes in life as in golf you should be able to prevent history from repeating itself.
Ben Hogan once said, "As you walk down the fairway of life you must smell the roses, for you only get to play one round." The great players of our time were not only great golfers, but they were also able to inspire us with their insightfulness and clever intellect.
Bobby Jones, who was probably one of the most fascinating and talented players to play the game once stated, "Golf is the closest game to the game we call life. You get bad breaks from good shots; you get good breaks from bad shots, but you have to play the ball where it lies."
Lee Trevino was one of my favourite players to watch when I was a junior. Golfers are often a superstitious bunch and I would always play with a Lee Trevino ball when I was in a tournament. His clever wit and incredible sense of humour taught me to always laugh and have fun on the golf course. Lee once said, "You don't know what pressure is until you play for five bucks with only two bucks in your pocket."
Arnold Palmer was perhaps one of the most popular and successful players of his time. He was one of the first professional golfers to make the transition from player to successful entrepreneur. Arnold once said, "Golf is deceptively simple and endlessly complicated; it satisfies the soul and frustrates the intellect. It is at the same time rewarding and maddening and it is without doubt the greatest game mankind ever invented." Mr. Palmer, as he is referred to by all of his professional peers, will be sadly missed by the golfing world.
Jack Nicklaus was and still is the greatest golfer of all time. He still holds the record for the most professional wins on tour as well as the most major victories. I had the opportunity to meet Jack and get an autograph at the Canadian Open in the late 1970s. The fact that he took time to stop and chat to that little kid with the program, will always be a cherished memory of mine. Jack had many famous quotes but my favourite quote was, "Don't be too proud to take a lesson, I'm not."
Remember to always make some notes about each round. Reflect on all your shots, both the good and the bad, and use that knowledge to make your next round even better!
Next Week: Achieving Your Personal Best
Cameron Burechails (Teaching Professional), The Georgian Bay Golf Academy at Meaford Golf Club, 705-441-0865, baygolfacademy@bell.net or www.baygolfacademy.com.