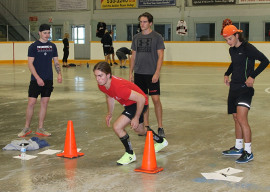 The Knights of Meaford are back in town and are getting ready for the 2018-19 season in the Greater Metro Hockey League.
The Knights' training camp opened last week and players gathered for a number of team activities to prepare for the upcoming season. The team has a new look in terms of the talent on the ice for the coming season.
"We have a whole new team this year," said Head Scout Danny Smith. "We have only two players returning from last year. We have players from Canada, the United States, Switzerland, Australia, and the Czech Republic. They're from everywhere. We have a couple of Europeans who played pro last year."
Callum Queenan is preparing for his third season with the Knights. He is the new captain of the team and joins Meaford native Connor Long as the only returning players from last year.
"It's a new team this year. It feels good to be named captain, I think we're going to have a strong team this year," said Queenan.
Tyson Gudaitis is one of many new players on the squad this season. The Boston-area native is a centre and was one of the top scorers in the North American Tier 3 Hockey League last season. He has committed to play college hockey for Becker College next season.
Gudaitis spoke with Smith over social media about coming to Meaford to play for the Knights and is excited about the season.
"Dan said it's an interesting place to play. I love it here, it's a beautiful town," he said. "On the ice you can expect speed and vision from me. I'm good at passing and finding my teammates."
Winger Eli Kinsman is joining the Knights this year after hearing great things about the town and organization from his friend Mitch Bolduc, who played in Meaford last season. Kinsman is from Cocoa Beach, Florida, and was an all-star in the Superior International Junior Hockey League last year.
"Mitch is one of my good buddies. He said it's a great place to play," said Kinsman. "I'm going to put some pucks in the net and make some plays."
Smith said training camp will continue for the next couple of weeks with a number of team building exercises.
"We're going on a cruise up to Tobermory. We're going to keep working until our first game on September 27," he said.
The Knights begin their season with two games on the road in Alliston against the New Tecumseth Civics on September 27 and October 4. The team opens its home schedule on October 11 at 7:30 p.m. against the Wiarton Schooners.
Photo: Knights of Meaford players conduct fitness tests at the Meaford Arena on Saturday, September 8. Training camp for the team opened last week.