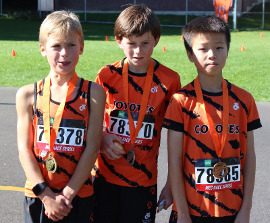 On Saturday, September 29, the Georgian Bay Coyotes hosted their 8th annual Coyote Cross Country Race for almost 400 local Grade 8-and-under runners from throughout Grey Bruce.
The race was held at the GBCS Athletic Field and used part of the Georgian Trail on a challenging course of flat twists and turns along with a short but tough 30m hill halfway through the course on each loop. Weather varied from clear blue skies to light showers under comfortable 10C temps and a great experience was had by all. Three hundred and ninety-two athletes registered for the race and 304 that actually stepped onto the line.
"The Coyotes put on quite a show as they had at least one runner on the podium in every event, except the JK-SK 800m race, and that was because we don't have any kids on our team that young," said team coach Kevin Hooper. "Our team has been training extremely hard over the last few weeks and their efforts paid off in gold, silver, and bronze. Those that didn't have podium placings also ran extremely hard in front of their hometown crowd. There are some very strong runners throughout Grey Bruce and they all represented their schools well. We look forward to having everyone back next year as we do it all over again. Thanks to all our parents, coaches, and volunteers who helped out to make our race a huge success once again."
October is very busy for the Coyotes runners with their school meets around the area and the province. Grade 8-and-under members are back in action on October 22 in Etobicoke. The following Saturday, October 27, they will compete at the MTA Provincial Championships, which will be hosted in Meaford on the same course used in this week's Coyotes Cross Country Race.
Photo: From left to right, Kaj Kulakowsky, Luke House, and Ethan Mei swept the Grade 3-4 Boys 1.55km race, taking 1st, 2nd, 3rd respectively, at the 8th annual Coyote XC Race in Meaford.