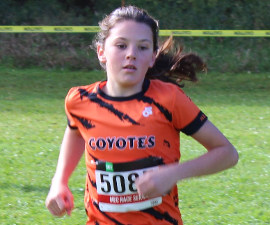 The Bluewater & District School Board (BWDSB) Cross Country Area Meet for the Grade 8-and-under school kids was held at the Kiwanis Complex in Owen Sound on Thursday, October 4. After heavy overnight rains, the course was quite wet to begin the day, but dried up some as the morning sunshine beamed on all the competitors. There was a total of 997 participants combined.
The Georgian Bay Coyotes, representing their individual schools, showed up ready to race. Of the eight races, the young Coyotes had a constant parade to the podium, with six gold medals and three bronze medals in addition to 17 top-10 performances.
The team is gearing up for their meet in Etobicoke on Saturday, October 20, and then peaking for the MTA XC Championships in Meaford on Saturday, October 27.
Photo: Taryn Lee, a Grade 6 East Ridge Community School student, won gold in the Grade 5-6 girls 2km race at the BWDSB Area Meet in Owen Sound