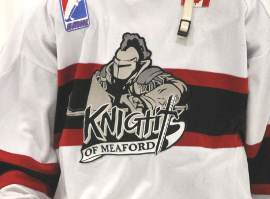 The Wiarton Schooners have accused members of the Knights of Meaford hockey team along with some of their fans of using racial slurs during an October 11 game at the Meaford arena.
According to a report in the Wiarton Echo, Schooners owner Beth Dyer said that "racial slurs were thrown from the stands, on the ice and elsewhere." Among the slurs alleged to have been used were "you dirty Indian", and "cut your hair you effing Indian".
Dyer told the Echo that at least two of her players of Cree descent are routinely on the receiving end of racial slurs "at every game".
The game itself, which was the home opener for the Knights, saw a multitude of penalties called throughout the game, and seven Schooners players as well as a coach were kicked out of the game.
Contacted over the weekend by The Independent for comment on the story that was published in the Echo on Friday October 19, Knights General Manager Nathan Parrish said that the team was preparing a statement for release.
"You can appreciate the severity of these allegations and we are doing our best to get to the bottom of it," said Parrish in response to questions from The Independent.
Late Monday night Parrish issued a statement from the team in which he denied that any racial slurs had been made by Knights players, and he said the team would cooperate fully should the GMHL want to conduct an investigation into the allegations.
"An organizational meeting involving management, coaches and players was called to investigate the accusations. We concluded that there were typical on ice interactions between players from both teams throughout the night. Neither Knights players/coaches or the referees for the game that night heard any racial slurs directed towards any player on the Schooners team," Parrish said in the statement. "The Meaford Knights roster includes many players of different ethnic backgrounds and from many countries all over the world including: Native Americans, African Americans, Germany, the Czech Republic, Denmark and Latvia to name a few. Seeing this article hit home for the entire organization. We cam all agree that making any kind of racial comment is completely unacceptable and nobody should be subject to this type of bullying or harassment on or of the ice period."
In the statement Parrish said that his players have been warned that if players are found to be using racial slurs they will be "released from the team and sent home immediately."
Parrish also said that the team will cooperate should the league opt to investigate the allegations made by the Schooners.
"If the league chooses to conduct a further investigation into these allegations our organization will co-operate in every way we can," said Parrish.