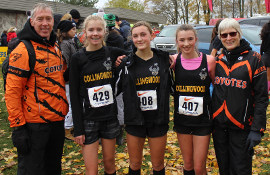 Christie Lake Conservation Area in Dundas, near Hamilton, was host to over 2,000 athletes for the 2018 Ontario High School OFSAA Cross Country Championships on Saturday, November 3.
Conditions were near perfect with overcast and +4'C with a light wind. The overnight rain made the course muddy and slippery in sections, but added to the true nature of cross country running.
The first event of the day, the grade 9 Midget Girls 4km race, was well represented with three Coyote members as they were competing for their high school - Collingwood Collegiate Institute. The girls and CCI have had a tremendous Fall season of racing, with Hailey and the team winning several races throughout the region, including the GBSSA Regional Championships in Huntsville last week.
On race day the girls were very nervous, but focused well before the race to keep their emotions in check. At the sound of the gun, a herd of 269 girls stampeded down the 250m opening stretch before making a sharp 90 degree turn to the right. After the first 500m, Hailey Abbott found herself in the top-5 and her teammates battling the mass of other athletes close behind. The entire pack then disappeared into the woods before popping out again with only 800m to go.
Abbott held onto 5th spot until the last 200m where she slipped back into 6th and crossed the line in 16:43.8 minutes, with the bronze medal athlete only eight seconds ahead of her. This was an outstanding race for Abbott as she improved her time by 39 seconds from the "pre-OFSAA" race held four weeks earlier on the same course, where she placed 7th.
Behind Abbott, girls were sprinting towards the finish line in huge packs, with several competitors crossing the line every few seconds. Not far behind, Leah Ray also had an outstanding race as she grabbed 55th spot in a time of 17:35.7 [35 seconds faster than her "pre-OFSAA" race] and was the 2nd finisher on the C.C.I. team. Madi Calder had a good start, but struggled in the back half of the course. She was only 28 seconds slower than her "pre-OFSAA" 4km race, but finished with a great sprint to pass a few girls in the last 150m to stop the clock at 18:31.4 to take 112th spot and 4th member on the team.
"The top-4 C.C.I. girls earned a bronze medal, well ahead of the 4th place team. This is the first OFSAA team medal for the Coyotes and Hailey, Leah and Madi did their team proud!" said Coyotes coach Kevin Hooper.
For more information about the team, check our website at www.georgianbaycoyotes.com.
[photo: Flanked by Coyote coaches Kevin and Shelley Hooper, from left to right, Leah Ray [#429], Madi Calder [#408] and Hailey Abbott [#407] were three of the top 4 C.C.I. team members to win a bronze medal at the OFSAA XC Champs in Dundas]